You came this way:
Home
> Curator:
WFMU
>
Vibracathedral Orchestra
Vibracathedral Orchestra

(1 Albums, 2 Tracks)
Artist
MEMBERS:
Adam Davenport
Michael Flower
The original group came together when Mick Flower began recording with Neil Campbell and Julian Bradley, who had released a number of homemade cassettes and an LP of their duo work. They self-released 2 CD-R albums before Campbell suggested merging the nascent group with the trio Flower was working with alongside Bridget Hayden and Adam Davenport, forming the best-known five-piece Vibracathedral Orchestra line-up.
Vibracathedral Orchestra has many self-released albums but has made music available through many underground labels, including VHF Records, Giardia, Eclipse, U-Sound, Qbico, Textile and Freedom From. They have twice been featured in session on Resonance FM, given an hour-long slot each time.
Although very much a fixed unit, the line-up has been occasionally augmented by the likes of Matthew Bower, John Godbert, Richard Youngs, John Clyde Evans (latterly known as Tirath Singh Nirmala), and Tom Greenwood (of Jackie-O Motherfucker). Julian Bradley left the group in 2004 with both Neil Campbell and Bridget Hayden following him in 2006. A new album, Wisdom Thunderbolt, featuring Chris Corsano and Matthew Bower as guests, was released on VHF in 2007. The group performed at the Colour Out Of Space festival in Brighton in August 2008 with a line-up of Flower, Davenport and Bradley.
» READ MORE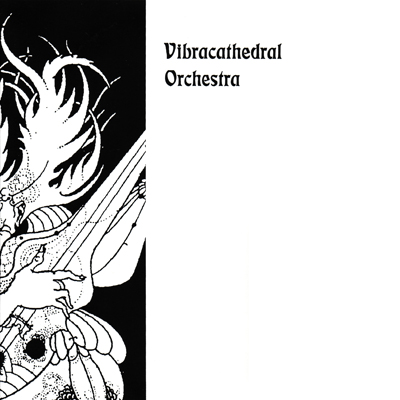 Eclipse LP