Album Description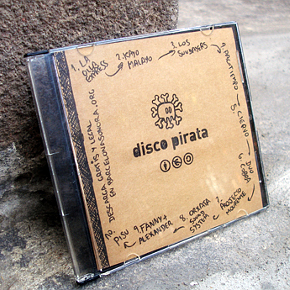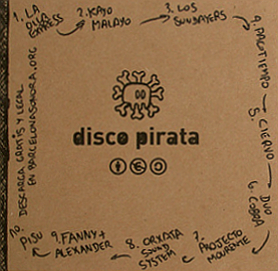 This is a free "pirate disc" sampler from Barcelona Sonora, a group of professionals in the arts in Spain. They are graphic designers, photographers,web developers, promoters, and t-shirt designers who promote the Creative Commons "paradigm shift" parallel to their commercial work.

The complete "gold box set" of the entire pirate disc series (110 tracks) is available through P2P thanks to Barcelona Sonora.
More about their mission with this disc from the official Barcelona Sonora site:
DISCO PIRATA es un disco recopilatorio que quiere dar a conocer al público general la creciente oleada de grupos del país que deciden publicar sus temas bajo licencias Creative Commons, permitiendo la descarga, la copia y la distribución de su obra de forma gratuita y sin interferencias de ninguna entidad a la que ni pertenecen ni quieren pertenecer.

Todas las canciones del disco han sido prestadas por sus autores, que se han implicado voluntariamente en el proyecto, si bien podría publicarse sin permiso, ya que esta recopilación no tiene ánimo de lucro y atribuye honestamente a cada autor su obra.
Por otro lado, el disco es un ejemplo práctico de las ventajas de este tipo de licencias para los grupos que empiezan, a los que queremos invitar a utilizarlas para adaptarse al nuevo paradigma en el que se encuentra la industria cultural, siguiendo los consejos de Andrew Dubber en su libro 20 things you must know about music online (newmusicstrategies.com/ebook).
El disco se puede escuchar y descargar gratis en barcelonasonora.org y obtener una copia física mediante un nuevo aunque conocido sistema de distribución que hemos llamado
Cuando una persona selecciona canciones de varios artistas que le gustan y decide grabarlas en un cd para compartirlas con sus amigos se encuentra, sin quererlo, en una situación de compleja alegalidad. Estos "discos piratas" no tienen ánimo de lucro y no quieren ir en contra de los autores, más bien al contrario.
Compartes una canción porque te gusta. La copia es la forma más natural de transmitir cultura desde la invención de la imprenta. Si la reproducción del texto escrito supuso un cambio de paradigma en todo el mundo, alfabetizándolo, revolucionando la ciencia, la cultura y las artes, ¿porqué sería negativo ahora facilitar la reproducción en cualquier tipo de medio?
Los artistas tienen derecho a decidir libremente cómo quieren que los demás usen sus obras y no deberían "ceder" ese derecho a nadie. Y como se viene demostrando cada vez más, el cobro de "royalties" no es la única forma de financiación para vivir del trabajo artístico.
Disco Pirata
by
Various Artists [Barcelona Sonora]
is licensed under a
Attribution-Noncommercial-Share Alike 3.0 Spain License
.