You came this way:
Home
> Curator:
WFMU
>
Dinowalrus
>
Dinowalrus live at WFMU on Beastin' The Airwaves! …
Dinowalrus live at WFMU on Beastin' The Airwaves! with Keili 1/13/11 by Dinowalrus
Album Description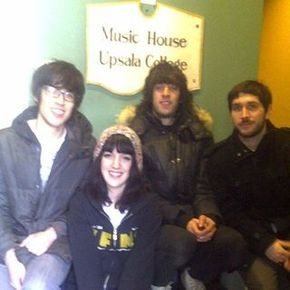 Released:
January 9th, 2011
DJ Keili writes: This week I had the pleasure of recording a live session with Dinowalrus.  At the beginning of sound check, there was a lot of negotiation and back and forth about sound details; effects, vocal levels, etc.  I've seen this before, and seen it get ugly, so I got worried that these guys, part of Brooklyn's hipster rock royalty, were going to be prickly and difficult.  But that was just my own shit getting in the way because they couldn't have been nicer, more fun and more professional.  These guys weren't just being particular for its own sake or, worse, because they're audio snobs. They got involved in every part of the recording process because they love what they do and they wanted the sounds on the radio to get as close to the sounds in their heads as they could. This is real DIY – artists who do it themselves because they want to, not because they have to. 
Despite monitor issues that were causing feedback, Dinowalrus and WFMU engineer Mark Koch recorded an epic session of mostly brand new, never-before-recorded songs which are definitely some of the best work Dinowalrus has ever put out.
Their sound has evolved as a result of introspection and exploration, all made possible by a new band lineup in which original lead member, Peter Feigenbaum (former Titus Andronicus guitarist) and synth/bass genius,  Liam Andrew,  are joined by new drummer, Anton Hochheim (formerly of Depreciation Guild.)  Their personalities mesh as well as their individual contributions to the group's sound.  And while they're serious about their music, they don't take themselves too seriously. Anton is an amazing, steady drummer, who could riff without flaw, but also had a great sense of humor.  Liam is a multi-instrumentalist; wearing a bass while playing keyboards and effects pedals.  I'd say he is the Jonny Greenwood of the group, but so is Pete!  One of my favorite moments during the session was watching Pete do the classic rock star kick and then laughing with a hint of irony as if to say "Look at me! I'm doing the rock star kick!"
But what stands out for me is their complete open-mindedness and their holistic approach to music. While some critics have been frustrated by their own inability to define Dinowalrus in simple terms and put them into a convenient genre box, that is exactly what I love about them.  They switch it up every time I get comfortable - exciting my senses in ways I didn't know any band could. In each song you can hear the multi-layered richness of a full life of musical influences, from disco, electronica and reggae, to acid rock, shoegaze, proto-punk, classical and 90s alternative.  I'm not looking for a definition with these guys – their sound truly reflects all the things that they hear and enjoy, not a predefined market-friendly category. I believe that music fans are way smarter than the credit afforded them by the critics, and we can all just sit back and enjoy the ride.
Dinowalrus's immediate future will be spent in the studio, recording their yet-to-be-titled new album. 
Radio Program
Dinowalrus live at WFMU on Beastin' The Airwaves! with Keili 1/13/11
Dinowalrus live at WFMU on Beastin' The Airwaves! with Keili 1/13/11
by
Dinowalrus
is licensed under a
Attribution-NonCommercial-NoDerivatives (aka Music Sharing) 3.0 International License
.