Album Description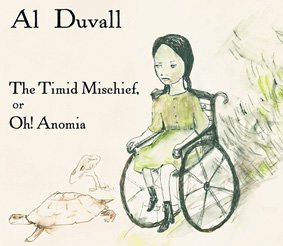 An unguided tour guide down memory Lane, turn of the century style American folk. Played on banjo, kazoo, guitar, musical saw, and a collection of spittoons, frying pans and medicine bottles. Al's vaudevillian songs are heaped in black wit, double entendre and clever word play about kleptomaniacs, Moonshiners, criminals, loners and even more shadowy figures. The music is a mix of old-timey, ragtime, sea shanty, Victorian parlour and jug band. Recorded on wax cylinders and other lo-fi devices, these songs were meant to be written between 1900 and 1930; he just never got around to it until now.
"his lyrics strike with all of the bravado of a Tom Waits album, but with a twinge of the old Vaudeville" - Folk it Up.
1.Bury Me In Shellac 2.Barstow Blues 3.Poppycock & Tommyrot 4.The Day Bartender 5.Mary Mack 6.Labias & Genitalmen 7.Tea With Lady Drake 8.The Abandoned Matinee 9.All Whistle and No Train 10.Squirrel Shucking Bee, Part One 11.The Maid of the Marshes 12.Penny Champagne 13.The Dirty Half-Mile 14.Hildegard 15.After the Luau
The Timid Mischief
by
Al Duvall
is licensed under a
Attribution-Noncommercial-Share Alike 3.0 United States License
.
dual plover
Metamkine (France)