Album Description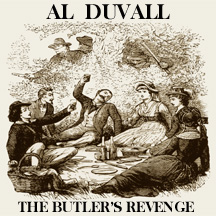 1.Lantana 2. Down by the Phosphate Mine 3.
Five Against One
4.Dry Belly Blues 5.In the Shack 6.Blend It 7.The Spree 8.Admiral of the Narrow Seas 9.Stevedore's Back 10.
Reconstruction
11.Riding the Pooch 12.Flophouse Polka 13.Desirable Melba 14.Jubilatin' Mama15.Cubanola Shuffle 16.Sacrificial Hootenanny 17.Fire Up the Still 18.Miss Grey 19.Newport News
Album
The Butler's Revenge
The Butler's Revenge
by
Al Duvall
is licensed under a
Attribution-Noncommercial-Share Alike 3.0 United States License
.
dual plover