Album Description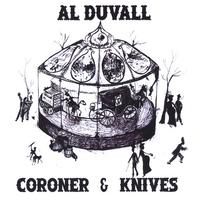 1.Saxonburg, Ohio 2.The Trashman's Daughter 3.Shibber and Moan 4.Riot In Chinatown 5.Madame Bowery 6.
Steeplechase Bound
7.Dreaming Of A Good Night's Sleep 8.Nymph Du Prairie 9.William Knave 10.Times Ain't Like They Used To Was 11.Pick 'Em Clean 12.
Hornin' Zeese
13.Sixes and Sevens 14.Crouching In The Thicket 15.The Elf-Shot Ploughman 16.Coroner & Knives 17.Penny Hang
Coroners & Knives
by
Al Duvall
is licensed under a
Attribution-Noncommercial-Share Alike 3.0 United States License
.
dual plover