Upset! the Rhythym (Label)
About Upset! the Rhythym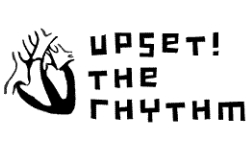 UPSET THE RHYTHM is a live music promoter and record label based in London, UK, which is collectively run with enthusiasm, commitment, a sense of adventure, and a desire to have fun in the process.
It all began in Autumn 2003 when we were a bunch of kids who were bored of the London music scene. We felt alienated by most of the shows that we went to and decided to do something about it. We had no experience of promotion, nor the business of music in general, but have worked tirelessly since to establish a natural home in London for creative talent.
Over the last 5 years, we have put on over 200 shows, the largest being two sold out dates at London's Hippodrome, headlined by Sunn O))) and Liars, as part of the off-site live music program for the Frieze Art Fair, which we were asked to curate in October 2006.
We also presented the launch party for David Shrigley's Worried Noodles project in October 2007, which saw Hot Chip headline a diverse bill at an all-day event in aid of Amnesty International. Finally, we were asked to curate one of The Wire magazine's 25th birthday events in November 2007, along with two showcases at SXSW in Austin, Texas, in March 2008.
In Summer 2005, we started a record label as a natural extension to the friendships we make through our live shows. The label is another way for the artists we work with to exercise their creative freedom and for us to lend our support. We are grateful to Southern for their efforts in distributing our records around the world.
Where we can, we work with other like-minded promoters to organise UK tours for artists on the UTR label and for bands we are particularly passionate about.
STATEMENT OF INTENT
With both our live shows and our records, we provide a platform for an eclectic array of artists from the international underground, whilst showcasing and supporting the UK's own fertile musical community.
We are a collective that is passionate about exciting and interesting music, and we enjoy working with the musicians that we love.
We hope to put on shows that are thought-provoking, fun and enjoyable for both the audience and the performer.
We treat both our artists and our audience with respect - paying musicians well, keeping ticket prices comparatively low, and ensuring profits from individual shows or records are used to fund future ventures.
UTR would not exist without the bands and artists we work with, and all credit rests with them.