About Primavera Sound
ange on 08/07/2013 at 05:09PM
The annual Primavera Sound Festival took place this May at Parc Del Forum in Barcelona, Spain. The festival's line-up is consistantly impressive, bringing together a mix of artists from across genres and generations. 
For the past 5 years, WFMU has been incredibly honored to be the festival's official American radio station. and to have so many incredible acts have give us permission to carry their sets.
These recordings wouldn't be possible without help from WFMU staffers who occupied the mosquito-infested double-wide broadcasting tent during the coldest Primavera festival yet. This includes WFMU's Liz Berg (you love her FMA podcasts and weekly mixes), Brian Turner (thank him for our recent live Mudhoney session), Scott Williams, Evan "Funk" Davies and Scott Konzelmann. You can explore the rest of the archived, streamable (non-downloadable) sets here and here.
All of these artist-approved live recordings are being offered under a Download Only License, which means they welcome you to listen but not remix or use in videos.

Via Primavera Sound » Visit Blog
» 0 COMMENTS
sackman on 05/15/2013 at 07:14PM
Via Primavera Sound » Visit Blog
» 0 COMMENTS
dvd on 07/30/2012 at 05:00PM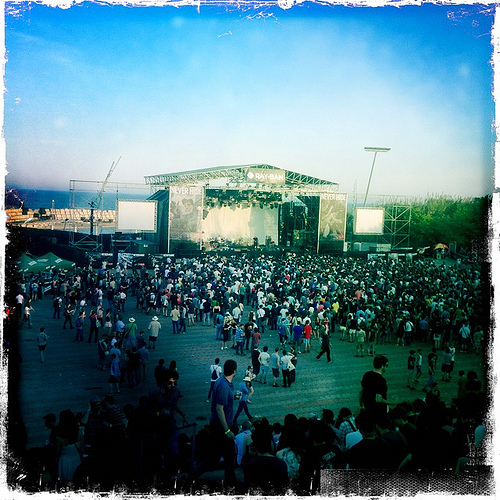 And we're back with more live music from this Summer's Primavera Sound Festival in Barcelona. We've got six artists on deck for the second batch, including:
Sharon Van Etten :: Afrocubism :: Dirty Three :: The Field :: The Pop Group :: James Ferraro
Brooklyn's Sharon Van Etten is on quite the up and up with her soulful blend of folk and pop - we've got her full set from Primavera for your listening pleasure, and don't miss her performance at the WFMU studios this past February. Afrocubism packs an impressive amount of international talent onto one stage, featuring Eliades Ochoa of Buena Vista Social Club and master Kora player Toumani Diabate backed by the finest musicians Mali and Cuba have to offer. Australian instrumental rockers Dirty Three have graciously allowed us to post their full set, including the hillariously foul banter between songs that we couldn't play on the radio. The Field's Axel Willner has been a mainstay of the Kompakt roster since 2004 and we've got the last two numbers from his mind-expanding set this Summer. The Pop Group are still going strong after transforming post-punk in the late '70s, represented here by five selections from their genre-bending set. This batch finishes strong with a sunny performance from experimental man of mystery James Ferraro. 
If you missed the first batch of Primavera 2012 uploads you can find the write up here, and the whole collection here.
Via Primavera Sound » Visit Blog
» 1 COMMENTS
dvd on 06/25/2012 at 05:00PM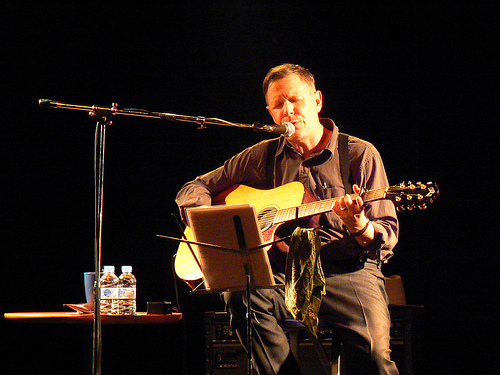 WFMU returned to Barcelona in early June for yet another fantastic festival from the folks at
Primavera Sound
. As always, the line-up is curated with a freeform mentality, bringing a diverse array of artists spanning multiple genres and generations. We've had a few weeks now to recoup from our sleepless broadcast coverage of the festival [playlists
here
and
here
] and we're excited to present our first batch of downloadable artist-approved live recordings! 
Part 1 begins with: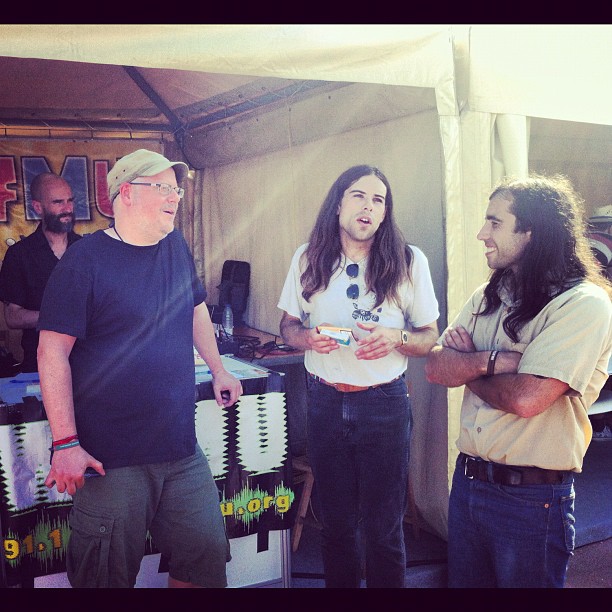 Brooklyn's
Obits
are no strangers to the Free Music Archive, and they've taken the time to remaster this recording of their Primavera performance just for the FMA. It sounds great! Seattle's
Mudhoney
 inspired heaps of Grunge rockers with their early singles on Sub Pop in the late eighties. Now they're back and still kicking ass - don't miss their set, a fan favorite! Despite multiple attempts from
Michael Gira
(pictured above)
over the years
to slip obsenities into our Primavera broadcast, our FCC dump button still got the better of him. For our troubles, he let us share a song from his excellent solo performance in Barcelona. Olympia's
Milk Music
visited the WFMU studios on Brian Turner's show last Summer (session
here
). This Summer we caught up with them in sunny Spain for some afternoon tunage on the Mediterranean (pictured at Left).
Liturgy
's brand of "
transcendental black metal
" gave way to the hypnotically buiding "
Generation
" and finally,
The Men
, who
headlined
our show at
SXSW
, offer another sampling of their post-punk stylings with a few new songs sprinkled in. 
Take a look at the
Primavera Sound 2012 Collection
for all of the livesets uploaded to date, and be sure to check back in the next couple weeks as we continue to upload more and more great sets from this year's festival. Below you'll find some highlights from our first batch...
Via Primavera Sound » Visit Blog
» 0 COMMENTS
TAGGED AS:
liturgy
,
milk music
,
mudhoney
,
michael gira
,
obits
,
the men
,
live performance
,
primavera
,
festival
,
barcelona
,
See Less...
jason on 05/10/2012 at 10:35AM
Primavera Sound is one of the world's most incredible music festivals, unique in the way they unite (even re-unite) world-famous headliners while also digging deep to discover up-and-coming artists. Based in Barcelona, Primavera brings artists from all over the world, with an ear that is uniquely attuned to sounds from Spain's underground. 
Here's a mix featuring music by 32 of the artists who are scheduled to perform at this year's Primavera Sound festival, May thru June 3rd. 2012 will be the fourth year in a row that WFMU broadcasts live from the festival, and we're looking forward to archiving more approved Primavera Sound performances here on the Free Music Archive!
| | |
| --- | --- |
| COMPLETE LINEUP: A Storm Of Light (US) | A$AP Rocky (US) | Absynthe Minded (BE) | Aeroplane (BE) | Afrocubism (CU) | Aliment (ES) | Anímic (ES) | April Fool's Day (ES) | AraabMUZIK (US) | Archers Of Loaf (US) | Astro (CL) | Atlas Sound (US) | Aleta (ES) Autumn Comets (ES) Barry Hogan DJ (ATP) (UK) Baxter Dury (UK) Beach Beach (ES) Beach Fossils (US) Beach House (US) Beirut (US) Benga (Live) (UK) Bernhard Fleischmann (AT) Big Star's Third (US) Bigott (ES) Black Lips (US) Bleached (US) Bombino (NE) Boreals (ES) Boxeur the Coeur (IT) Buffy Sainte-Marie (CA) Candela y Los Supremos (ES) Capitán (ES) Celestial Bums (ES) Chairlift (US) Chavez (US) Christina Rosenvinge (ES) Chromatics (US) Codeine (US) Cosmen Adelaida (ES) Cuchillo (ES) Danny Brown (US) Death Cab For Cutie (US) Death In Vegas (UK) Demdike Stare (UK) Dirty Beaches (CA) Dirty Three (AU) DJ Coco (ES) Doble Pletina (ES) Dominant Legs (US) Dominique A (FR) Dulce Pájara de Juventud (ES) Dutch Uncles (UK) Ed Wood (PL) Edith Crash (ES) Eh! (ES) El Faro (ES) EL-P (US) Elephant (UK) Eliah Smith (ES) Elvira (ES) Erol Alkan (UK) Evripidis and His Tragedies (ES) Fasenuova (ES) Father John Misty (US) Fernando Milagros (CH) Field Music (UK) Forest Swords (UK) Franz Ferdinand (UK) Fred i Son (ES) Friends (US) Gabriel y Vencerás (ES) Germana (ES) GinGa (AT) | Girls (US) | Girls Names (UK) | Godflesh (UK) | Grimes (CA) | GRTS (ES) | Grupo de Expertos Solynieve (ES) | Grushenka (ES) | Gudar (ES) | Hanni El Khatib (US) | Harvey Milk (US) | Hazte Lapón (ES) | Her Only Presence (ES) | Hooray For Earth (US) | Hot Panda (CA) | Hype Williams (US) | I Break Horses (SE) | Iceage (DK) | Inborn! (LU) | Internet2 (ES) | James Ferraro (US) | James Hunter (UK) | Jamie xx (UK) | Japandroids (CA) | Jeff Mangum (Neutral Milk Hotel) (US) | Jeremy Jay (US) | Joan Colomo (ES) | Joe Crepúsculo (ES) | John Talabot (Live) (ES) | Josh T. Pearson (US) | Justice live (FR) | Kindness (UK) | King Of The Opera (IT) | Kings Of Convenience (NO) | Kleenex Girl Wonder (US) | Kristen (PL) | L'Hereu Escampa (ES) | La Estrella De David (ES) | Las Nurses (ES) | Laura Marling (UK) | Lee Ranaldo (US) | LFO (UK) | Linda Martini (PT) | Lisa & The Lips (US) | Lisabö (SP) | Liturgy (US) | Lorena Álvarez Y Su Banda Municipal (ES) | Los Negretes (MX) | Lovely Bad Things (CA) | Lower Dens (US) | M83 (FR) | Main (UK) | Marianne Faithfull (UK) | Mates Mates (ES) | Matías Aguayo (CL) | Mayhem (NO) | Mazzy Star (US) | Melvins (US) | Michael Gira (US) | Milagres (US) | Milk Music (US) | Mudhoney (US) | Mujeres (ES) | Mutiny on the Bounty (LU) | Nacho Vegas (ES) | Napalm Death (UK) | Napszyklat (PL) | Neon Indian (US) | Nick Garrie plays The Nightmare Of J.B. Stanislas (UK) | No More Lies (ES) | Numbers showcase: Jackmaster, Oneman, Deadboy, Spencer, Redinho (UK) | Obits (US) | Ocellot (ES) | OFF! (US) | Ohios (ES) | Orthodox (SP) | Other Lives (US) | Partido (ES) | Pegasvs (ES) | Peter Wolf Crier (US) | Picore (ES) | Pional (Live) (ES) | Purity Ring (CA) | Rats on Rafts (NL) | Real Estate (US) | Rebolledo (MX) | Refree (ES) | Refused (SE) | Renaldo & Clara (ES) | Richard Hawley (UK) | Rufus Wainwright and his Band (US) | Rustie (UK) | Saint Etienne (UK) | Sandro Perri (CA) | Santiago Latorre (ES) | SBTRKT (UK) | Scuba (UK) | Senior i El Cor Brutal (ES) | | |
Sharon Van Etten (US) | Shellac (US) | Sictor Valdaña & The Check This Outs (ES) | Siskiyou (CA) | Sleep (US) | Sleepy Sun (US) | Sleigh Bells (US) | Spiritualized (UK) | Sr. Chinarro (ES) | Stasi (ES) | Steven Munar & The Miracle Band (ES) | Tall Firs (US) | Templeton (ES) | The Afghan Whigs (US) | The Chameleons (UK) | The Cure (UK) | The Drums (US) | The Experimental Tropic Blues Band (BE) | The Field (SE) | The Free Fall Band (ES) | The Ganjas (CL) | The Go! Team djs (UK) | The Lions Constellation (ES) | The Men (US) | The Olivia Tremor Control (US) | The Pop Group (UK) | The Rapture (US) | The Right Ons (ES) | The War On Drugs (US) | The Wedding Present plays Seamonsters (UK) | The Weeknd (CA) | The xx (UK) | Thee Oh Sees (US) | Trash Talk (US) | Unicornibot (ES) | Univers (ES) | Veronica Falls (UK) | Villarroel (ES) | Void Ov Voices (HU) | Washed Out (US) | Wavves (US) | White Denim (US) | Wilco (US) | Wild Beasts (UK) | Wolves In The Throne Room (US) | Xavier Baró (ES) | Yann Tiersen (FR) | Yo La Tengo (US)
Check out many more select recordings from past Primavera Sound festivals as we look forward to Primavera 2012!
Via Primavera Sound » Visit Blog
» 1 COMMENTS
jason on 06/28/2011 at 12:30PM
Last week, we kicked off a collection of recordings from WFMU's two days of Primavera Sound coverage with Prince Rama, Swans, Oneohtrix Point Never, Suicide, Pissed Jeans, The Monochrome Set, Ducktails, Half Japanese.
This week, we bring you six more from Barcelona's incredible multi-day / multi-stage music festival! Check out free artist-approved mp3s by...
* Barcelona's own Aias! Gaia, Laia, and Miriam were inspired to start a band after seeing the Vivian Girls at Primavera Sound a couple years back, and they sing in Catalan (not Spanish!), which is the language of Catalonia. Captured Tracks released their record A La Piscina, and the three-piece was joined by guests on saxophone for this Primavera Sound set
  >> Aias live at Primavera Sound
* Legendary downtown NYC avant-garde composer Glenn Branca is the conductor of the Glenn Branca Ensemble (pictured). This 4guitar, + bass & drums supergroup performed The Ascension: The Sequel (2010's follow up to Branca's seminal 1981 release The Ascension) in its entirety, and the FMA hosts four selections from this performance
  >> Glenn Branca Ensemble live at Primavera Sound).
* The Fresh & Onlys from San Francisco! Led by the prolific songwriter (and former hip hop artist!) Tim Cohen on guitar/vox + all-around positive force in music Shayde Sartin (Skygreen Leopards, Kelley Stoltz, Teenage Panzercorps, the band is in top form
  >> Fresh & Onlys live at Primavera Sound
* WFMU & KEXP faves Moon Duo (Ripley Johnson of Wooden Shjips + Sanae Yamada, pictured) bring the new psychedelic sounds of San Francisco to Spain, with jams off their new Sacred Bones release Mazes
  >> Moon Duo live at Primavera Sound
* Montreal's dual female-fronted 4-piece noise-poppers No Joy! Scott Williams was telling me that the whole set, they sounded like a shoegazin' Mary Weiss, and then they closed with "He Cried!" Check out their debut LP Ghost Blond (Mexican Summer).
  >> No Joy live at Priamvera Sound
* The Soft Moon, a project of California's Luis Vasquez, performs live with a full band. "Tiny Spiders" closes his s/t debut on Captured Tracks, and capped off a set of dark 80s-inspired angular post-pop.
  >> The Soft Moon live at Primavera Sound
:: Primavera Sound 2011 on WFMU (full mp3 collection)

// Stay tuned as we'll be adding even more sets next week!
Via Primavera Sound » Visit Blog
» 0 COMMENTS
jason on 06/20/2011 at 01:00PM
Primavera Sound held its eleventh-annual festival in Barcelona Spain last month, and we are proud to present mp3 highlights from what is truly one of the world's most incredible music events. This year, a record-setting 120,000+ attendees were treated to several stages'-worth of performances by established artists, special reunion performances, and many up-and-coming artists who you might not expect to see on the big festival stage.
For the third year in a row, the freeform-inspired folks at Primavera invited WFMU to broadcast live [playlists here and here], and we are kicking off the Free Music Archive collection with sets from...

Prince Rama  ::  Swans  ::  Oneohtrix Point Never  ::  Suicide  ::  Pissed Jeans  ::  The Monochrome Set  ::  Ducktails  :: Half Japanese
We picked out a few highlights below, like Michael Gira (pictured L) giving WFMU a Ween-referencing "shoutout" before launching into an incredible version of "Eden Prison" off the new Swans album My Father Will Guide Me Up A Rope To The Sky, and Matt from Pissed Jeans speaking directly to the guys & girls in the audience during "Boring Girls," leading into the most trance-inducing drum solo of the entire festival. New Wave chart-toppers' Prince Rama (pictured R, formerly Of Ayodhya) performed backed by VJ Julian of Quiet Hooves; Oneohtrix Point Never's set was a psychedelic trip; Suicide performed their entire first LP followed by "Dream Baby Dream as an encore; Half Japanese played a rawkus set of should-be hits that recalled their performance at WFMU's 2008 SXSW festival; the fantastic reunion performance from London post-punk pioneers The Monochrome Set; and a full-band set of jams new & old from New Jersey's own Ducktails.
Check out the entire Primavera Sound 2011 FMA Collection here, and stay tuned (RSS) as we'll be adding more artist-approved songs & sets for your on-demand enjoyment!
Via Primavera Sound » Visit Blog
» 0 COMMENTS
jason on 02/02/2011 at 02:05PM
Today, Primavera Sound announced some incredible additions to their 2011 festival lineup. They still have a few announcements in store before the 11th annual springtime festival returns to Barcelona this May, but it's hard to imagine how this lineup could get any better! Many of the artists who'll be playing this year's festival also have some related mp3s on the Free Music Archive, they are linked below and I've attached a few mp3s, too:
| | |
| --- | --- |
| Aias (SPA) »Ainara LeGardon (SPA) »Animal Collective (US) »Ariel Pink's Haunted Graffiti (US) »Arto Lindsay (US) »Autolux (US) »Avi Buffalo (US) »Baths (US) »Battles (US) »Belle & Sebastian (UK) »Berlinetta (SPA) »Big Boi (US) »Blank Dogs (US) »BMX Bandits (UK) »Caribou (CAN) »Carte Blanche (FRA) »Caspa (UK) »Cloud Nothings (US) »Comet Gain (UK) »Connan Mockasin (NZL) »Cults (US) »Cuzo + Damo Suzuki (SPA/JAP) »Dan Melchior und Das Menace (UK) »Darkstar (UK) »Das Racist (US) »Deakin (US) »Dean Wareham plays Galaxie 500 (NZL) »Del Rey (US) »DJ Shadow (US) »DM Stith (US) »Ducktails (US) »Dúo Cobra (SPA) »Echo & The Bunnymen performing Heaven Up Here & Crocodiles (UK) »Einstürzende Neubauten (GER) »El Guincho (SPA) »El Mató A Un Policía Motorizado (ARG) »Emeralds (US) »Explosions In the Sky (US) »Factory Floor (UK) »Field Music (UK) »Fleet Foxes (US) »Games (US) »Gang Gang Dance (US) »Girl Talk (US) »Glasser (US) »Glenn Branca Ensemble (US) »Gold Panda (UK) »Gonjasufi (US) »Grinderman (UK) »Half Japanese (US) »Holy Ghost! (US) »Incarnations (US) »Interpol (US) »Islet (UK) »James Blake (UK) »Jamie XX (UK) »John Cale & Band + Orchestra perform PARIS 1919 (UK) »John Talabot (SPA) »Julia Kent (CAN) »Julian Lynch (US) »Kode9 (UK) »Kokoshca (SPA) »Kurt Vile & The Violators (US) »La Célula Durmiente (SPA) »Las Robertas (CRC) »Les Aus (SPA) »Lichens (US) »Lindstrom (NOR) »Low (US) »Lüger (SPA) »M. Ward (US) »Male Bonding (UK) »Matthew Dear Live (US) »Me And The Bees (SPA) »Mercury Rev perform Deserter's Songs (US) »Mogwai (UK) »Money Mark (US) »My Teenage Stride (US) »Nisennenmondai (JAP) »Nosoträsh "Popemas" (SPA) »Odd Future (US) »Of Montreal (US) »Oneohtrix Point Never (US) »Ornamento Y Delito (SPA) »P.I.L. (Public Image Limited) (UK) »Papas Fritas (US) »Pere Ubu plays "The Annotated Modern Dance" (US) »Perfume Genius (US) »Phosphorescent (US) »Pissed Jeans (US) »PJ Harvey (UK) »Pulp (UK) »Rubik (FIN) »Salem (US) »Seefeel (UK) »Shellac (US) »Simian Mobile Disco (UK) »Sonny & The Sunsets (US) »Sufjan Stevens (US) »Suicide (US) »Suuns (CAN) »Swans (US) »Tennis (US) »The Album Leaf (US) »The Annuals (US) »The Black Angels (US) »The Fiery Furnaces (US) »The Flaming Lips (US) »The Fresh & Onlys (US) »The Jon Spencer Blues Explosion (US) »The Monochrome Set (UK) »The National (US) »The Soft Moon (US) »The Suicide Of Western Culture (SPA) »The Tallest Man On Earth (SWE) »The Vaccines (UK) »The Walkmen (US) »Thelematicos (SPA) »Toundra (SPA) »Triángulo De Amor Bizarro (SPA) »tUnE-yArDs (US) »Twin Shadow (US) »Ty Segall (US) »Warpaint (US) »Wolf People (UK) »Yuck (UK) » | |
Primavera Sound is unique in that they pair established headliners and festival performers with up-and-coming artists. They also have a great ear towards the music scene in Spain. One of the acts playing this year's festival, Aias, are an all-female three-piece from Barcelona who sing in Catalán. They were actually inspired to form a band after seeing the Vivian Girls at Primavera Sound a couple years back! You can listen to here, and check out many more select recordings from past Primavera Sound festivals as we look forward to Primavera 2011!
Via Primavera Sound » Visit Blog
» 1 COMMENTS
jason on 07/16/2010 at 01:45PM
I hadn't seen Sic Alps since a show a couple summers back at Brooklyn's Death By Audio, which is a DIY venue that looks a little something like this:
Death By Audio has its own sound system, but Sic Alps didn't care. They brought their own, cuz that's how they do -- running everything through a big set of black and Orange amps, mixing in a touch of tasteful delay to create that distinctive Sic sound. It's a sound you may already be familiar with from their releases on myriad awesome labels (Slumberland, Siltbreeze, Woodsist, Important, Almost Ready, Drag City, the list goes on). If you've yet to hear these fine releases, you can check out "Message From the Law" on this FMA Sampler V2, and their amazing 2007 live session on Brian Turner's show (part of which appeared on a highly sought-after tape via Mike Donovan's own Folding Cassettes imprint). I've often heard Brian Turner speak of Sic Alps as exemplary of the new crop of DIY bands (Thee Oh Sees and Naked On The Vague among them) who shape sound entirely through their own equipment instead of depending upon outside forces.
Sic Alps sounded downright at home on the big festival stage at Primavera, pumped through gargantuan outdoor speakers like it was no big deal. The former two-piece of Mike Donovan (vocals/guitar) and Matt Harman (drums) are now joined by bassist Noel Von Harmonson, which helped round out their sound on classic Alps tunes like "Brill Building," "Bells (w/ Tremolo and Distortion)" "Stories" plus new jams, "Do You Want to Give $$" being one of my faves from the set. If you like these free sounds and want to give $$, the $ icon on Sic Alps FMA profile directs to their merch page but for some reason it only contains lyrics, nothing for sale...well I'm sure you can find stuff online thru Drag City, Siltbreeze etc, or find a new track, "Maddy / Riley" available on a new Amnesty International compilation called "PEACE" that with exclusive tracks by 180+ artists -- including Bonde Do Role, Dan Deacon, Steve Wynn, Vieux Farka Toure -- available for a donation of $5 or more (link).
>> Full Set
READ MORE
Via Primavera Sound » Visit Blog
» 0 COMMENTS
jason on 06/28/2010 at 09:00AM
The Almigty Defenders are a twisted-gospel/garage-punk supergroup featuring members of Black Lips, King Khan & BBQ. When I say "gospel," I mean these guys are inspired by 70s soul, 60s garage and 50s R&B, but the spiritual message is slightly warped. During their rowdy live set at Primavera Sound, they don't just encourage the crowd to "Take Jesus Christ," but to "take him by the balls...and squeeze". They had some strong words for the pope as well in this beguiling set of spirituals, and survived more than a gag (a Defender vomited onstage, which upset the security guards) to keep the party going late Saturday night at the Vice stage.
Vice released The Almighty Defenders' self-titled debut LP late last year, which is surprising turn-around considering the group had only formed in February 2009. Even more surprising is the group's origin story -- according to Wikipedia:
During the Black Lips' January 2009 tour of India, following an incident at a rowdy show during which Cole Alexander kissed fellow bandmember Ian St. Pe and exposed his private parts on-stage, the Lips fled the country while rumors of their arrests circulated the internet. The tour was canceled and the group members fled to the Berlin, Germany residence of King Khan, where Sultan so happened to be recording tracks with Khan for the King Khan and BBQ Show's upcoming "Invisible Girl". Over the course of eight days, in a typically booze-sloppy Black Lips fashion, they laid down 11 tracks with Khan and Sultan. On June 17, the full group made its live debut, performing a set in choir robes at the North by Northeast festival.
The Defenders' choir robes were in full effect at Primavera Sound, where highlights included the group's epic "The Great Defender", "The Ghost With The Most", and "Cone of Light" (full setlist after the jump). The album version of "Cone of Light" is available for download from Vice Records' FMA collection, where you can also find music from related projects Black Lips and King Khan and The Shrines and great great bands like Pierced Arrows, Growing, The Raveonettes, Acrassicauda and Lullabye Arkestra.
READ MORE
Via Primavera Sound » Visit Blog
» 0 COMMENTS