About Boston Hassle
UV PROTECTION came out of a scene centered around Mass Art (the public Massachusetts College of Art) that was fostered by show booker/label head/ party thrower, Ben Sisto, himself a Mass Art student. From there the band exploded into the basements and many other odd spaces all over the Boston area. Based primarily out of Somerville, and part of the 440R Collective based just outside of Union Sq., they might possibly have been the most popular band in Boston underground music leading up to and during the time surrounding their 1st album, CONSUMER MATERIAL. They may also be the last Somerville performers to achieve such popularity.

Sisto's label HONEYPUMP RECORDS released the record in 2004. Icy, and shambling synth-pop permeates the thing. LILLIPUT gone new wave rather than punk, or ESG if they'd taken opera lessons and had a large pile of keyboards. Something like that.
At their best this band had packed basements across the city writhing to their bubbling poppy, post-punk. One of the best post-punk bands Boston has seen, these 4 women, 2 synths/ drums/ dancer wearing different costumes for EVERY show (designed by one of the band's 2 singers Karen Tsiakais) should have known wider popularity but it never happened. A second self-released record CLEAN MODERN COMFORTABLE followed 3 years later. Bands spawned of UV's demise include THE SECRET SEA.
Via Boston Hassle » Visit Blog
» 0 COMMENTS
You know that one great band that always ends up playing with a ton of shitty bar bands? You know when you go out to some dive bar with your friends and there are some crappy metal bands playing the stage, and then all of the sudden one act comes up and is legitimately gnarly, but no one really pays attention because it goes over there heads? For years, this was Bugs and Rats, from Quincy, MA. It's not a surprising thing when you see Quincy. It's a small town outside of Boston, not known for any sort of booming music scene. Perhaps it was the lack of music scene that helped Bugs and Rats ooze to fruition.
The boys; Shawnie Brando, Kellzo, and Radek Weirzbowski, started writing and playing music together in 2003. Influenced by the hardcore scene and bands like Godflesh, Nirvana and Eyehategod, the band's early sound was a mix of simple song structures, repetitive hooks and vocals akin to some sort of dog being strangled. The first release, 2004's Smart as a Whip was (according to Brando) met with little interest from the Quincy bar band and metal 'scene.' Bugs and Rats were not really playing punk, they were not really playing metal, there weren't really playing rock. It was hard to pin-point what they were doing.
READ MORE
Via Boston Hassle » Visit Blog
» 1 COMMENTS
In 2010, Wes Kaplan released the album Teenage High-School under the name The Craters. A self-proclaimed "100% bedroom project," this album stood it's ground in the scene for quite some time, now having it's name dropped in small circles of music enthusiasts (eg. "Yo, do you like The Craters?"). The album showcased a trial and error production style, using a mixture of hand-claps, electronic drum samples, synths, un-plugged electric guitar loops, vocals, and a whole bunch of effects in a minimal manner, displaying Kaplan's songwriting in as unique a way possible. Right off the bat, Teenage High-School was agreed upon by the few who heard it as a total jam, a very brilliant listen, and at the very least, an extremely unique pop album.
READ MORE
Via Boston Hassle » Visit Blog
» 4 COMMENTS
The Boston underground has recently been rejoicing for reasons devoid of home-team sport pride. Free Pizza, a short lived yet extremely memorable power-pop group has decided to reunite within the past few months of 2013. This is not your everyday reunion. This is a great day for New England, and all areas of land where rokndroll is bumping.
Power-Pop is a genre that many are attracted to, and thus will dip their toe in and attempt to make some pop jams. Maybe this is why it can feel like a sort of redundant genre, with so many mediocre acts 'poppin' up here and their, playing some dumb songs about eating cheetos or skateboarding or maybe something about a girl or, um, girls. It is also one of those sounds that has changed so much since it's early raw yet earest beginnings in the 80's with bands like the Replacements. Power-Pop can almost have a bit too much self-awareness. Not Free Pizza. These boys are having a party and everyone is invited.
READ MORE
Via Boston Hassle » Visit Blog
» 0 COMMENTS
jason on 10/12/2012 at 05:00AM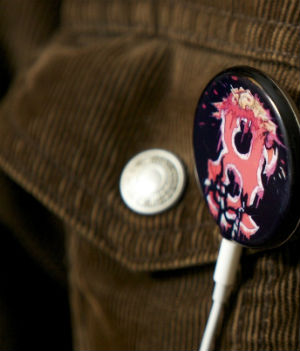 Though you'd never guess from a listen to this fantastic comp of Boston DIY music, its organizers believe that their city has some problems: "Rents are high. The train doesn't go where the rents are low. Nearly all the clubs in town treat bands like scum and have little or nothing to do with the music communities that keep them in business. In short it can be a serious hassle to be a band in the area, especially one that isn't mainstream."
Boston Hassle is combatting these problems through concerts and initiatives that unite the greater Boston area's underground communities. The Boston Hassle webzine is overseen by Bodies of Water Shows, a not-for-profit show-booking entity with a bourgening label arm known as Bodies of Water Arts & Crafts. The same crew is also behind the Boston Counter Cultural Compass, a monthly newsletter for underground all-ages/DIY shows throughout Boston, Cambridge, Somerville, Brookline and beyond.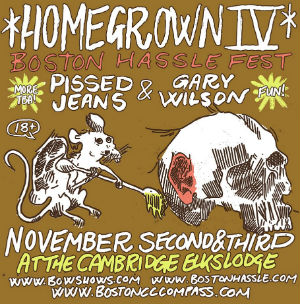 Boston Compass, Boston Hassle and Bodies of Water are joining forces for the fourth-annual Home Grown Festival this November 2nd & 3rd. The lineup includes a big batch of FMA favorites from all over the country like Gary Wilson, Pissed Jeans, Blue Sausage Infant, Burning Star Core, Dan Melchior, Black Dice's Eric Copeland, Fat Worm of Error, Greg Kelley/Bill Nace, Major Stars, PC Worship, Purling Hiss, Roomrunner, Sediment Club, Sightings, Sore Eros and many more. You'll also find a few of the artists from this compilation: Slumberland's classy pop group Cuffs, deconstructed post-indie rockers Fat History Month, and Exusamwa feat. Angela from the great local shop Weirdo Records.
Boston Hassle's premier compilation of Boston underground music was originally released on a 3" playable button (pictured at right). Pick up the badge and show some support for their efforts to make it a little bit easier for Boston underground music to thrive!
Via Boston Hassle » Visit Blog
» 1 COMMENTS