You came this way:
Home
> Curator:
KEXP
>
You Say Party! We Say Die!
You Say Party! We Say Die!

(2 Albums, 1 Tracks)
Artist
MEMBERS:
Becky Ninkovic Lead Vocalist
Stephen O'Shea Bass Player
Krista Loewen Keyboard Player
Derek Adam Guitar Player
Devon Clifford Drummer
British Columbia's You Say Party! We Say Die! (aka YSP!WSD!) are back! Having reinvented themselves with their spirited style of New-Wave, and a new depth of material, the band is excited to announce the details of their much-anticipated third release, XXXX, out on Paper Bag Records on Sept. 29th. YSP!WSD! has embraced soul, feeling, and rhythm while still bearing the tenets of their original sound, which caused critics around the globe to embrace the band's first two albums, Hit the Floor! and Lose All Time.
After years of touring, hundreds of shows worldwide, and countless van hours together, patience has become a virtue to lead singer Becky Ninkovic, bassist Stephen O'Shea, keyboardist Krista Loewen, guitarist Derek Adam and drummer Devon Clifford. In late 2007, during a sixteen-week fall/winter tour of Canada and Europe, the band had reached a breaking point. It happened during a physical confrontation at the legendary "Rock and Roll Herberge" in Berlin, ending with Ninkovic being thrown into the street by two beefy German punk rockers.
Road-weary and listless, the group were desperate for new inspiration. This came in the spring of 2008 when they were offered the opportunity to tour China and Japan for the first time. The group's experience in Asia brought them closer together than they had ever been, and a new motivation to love each other and "do whatever it takes" was found. Thus, the seed of XXXX had sprouted within the You Say Party family. Members began paying attention to their personal lives again, pursuing artistic endeavors and meaningful employment. They provided supportive care for adults living with disabilities, aid to the poor in developing countries, and services for the homeless in Vancouver's Downtown East Side and the message was put forth that "the loving is the everything."
The rest of 2008 was spent creating the songs that grew to become XXXX. Collaborating with producer Howard Redekopp (Tegan And Sara, The New Pornographers), XXXX was recorded between January and August of 2009, and is their most intensive effort to date.
YSP! WSD! will embark on a North American tour in support of XXXX, and are looking forward to returning to the US for the first time in several years.
» READ MORE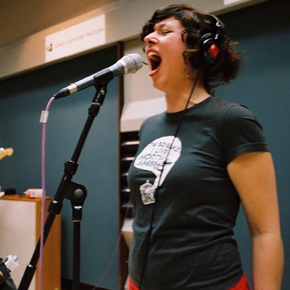 CBC Radio 3 Concert and Sessions