Album Description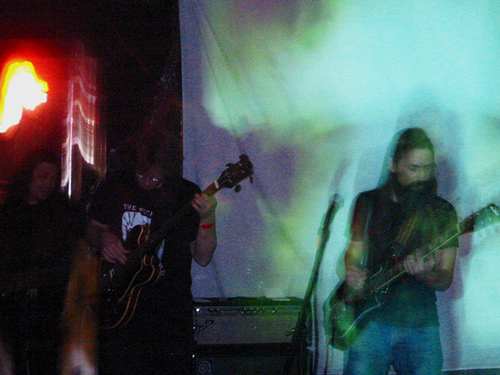 Released:
September 18th, 2008
Recorded:
September 20th, 2008
A blast of the blind, murderous intensity of the California desert seared the Borscht Belt torpor of the banquet hall when San Francisco's latest & greatest purveyors of overheated kraut-psych-freedom-rock Wooden Shjips took to Stage 2 at the All Tomorrow's Parties festival held at Kutsher's Resort in Monticello NY last month.
Combining the motoriks and aloofness of classic Krautrock with the wide-open & wasted blues of The West Coast Hippie-Type, Wooden Shjips stained the rug and smashed the chandelier with pulsing bass, droning organ, fuzz-phased guitar, and Suicide vocals.  Better still, they offered to share the following tracks from their set! - Scott Williams via WFMU's Beware of the Blog 10/17/2008
mixed by Scott Williams from multi-tracks after the fact
Live Performance
Wooden Shjips Live at ATP NY 2008
Wooden Shjips Live at ATP NY 2008
by
Wooden Shjips
is licensed under a
Attribution-Noncommercial-No Derivative Works 3.0 United States License
.