Album Description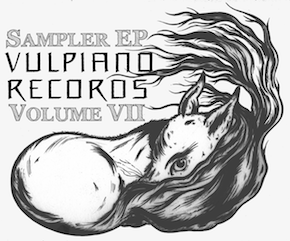 Released:
January 2nd, 2017
Vulpiano Records - Sampler EP Vol. 7 (VULP-0090)
At the dawn of the new year comes a new sampler EP from old and new favorites on Creative Commons netlabel Vulpiano Records: Ava Zandieh, Natural Snow Buildings, Neurotic Wreck, Taker 51, Enrico Falbo, Golden Grey, Vukovar, Trip.Logic, When We Live, and Vulpiano founder Marilyn Roxie. This compilation spans electronic and droney sounds to hazy dreamscapes and finally a cacophonous swirl of found-sound.
Sampler EP: Vol. 7
by
Vulpiano Records Artists
is licensed under a
Creative Commons Attribution-NonCommercial-NoDerivatives 4.0 License
.