Album Description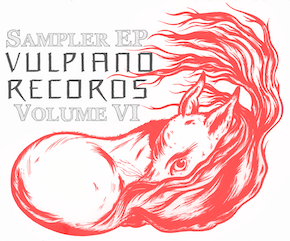 Vulpiano Records - Sampler EP Vol. 6 (VULP-0080)  collects music from the netlabel's releases March 2016 through June 2016. With some familiar faces returning like Raúl Díaz Palomar, North Hive, Ava Zandieh, Neurotic Wreck, and Zapa, some new artists have arrived as well: Thorn1, Fake Cats Project and band member Kirill Makushin's solo work, and Golden Grey. Ambient, acoustic, electronic and experimental sounds dominate the release, making it a good encapsulation of the primary areas of focus Vulpiano has become known for.
Note: Previous tracks by Kirill Makushin "Wake" and "Where?" have been removed at request from the artist.
Sampler EP: Vol. 6
by
Vulpiano Records Artists
is licensed under a
Creative Commons Attribution-NonCommercial-NoDerivatives 4.0 License
.