Album Description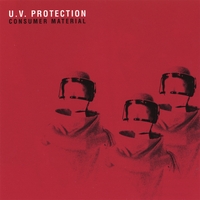 UV PROTECTION came out of a scene centered around Mass Art (the public Massachusetts College of Art) that was fostered by show booker/label head/ party thrower, Ben Sisto, himself a Mass Art student. From there the band exploded into the basements and many other odd spaces all over the Boston area. Based primarily out of Somerville, and part of the 440R Collective based just outside of Union Sq., they might possibly have been the most popular band in Boston underground music leading up to and during the time surrounding the release of their 1st album, CONSUMER MATERIAL in 2004. They may also be the last Somerville performers to achieve such popularity.

 Sisto's label HONEYPUMP RECORDS released the record in 2004. Icy, and shambling synth-pop permeates the thing. LILLIPUT gone new wave rather than punk, or ESG if they'd taken opera lessons and had a large pile of keyboards.
Something like that. At their best this band had packed basements across the city writhing to their bubbling poppy, post-punk. One of the best post-punk bands Boston has seen, these 4 women, 2 synths/ drums/ dancer wearing different costumes for EVERY show (designed by pne of the band's 2 singers Karen Tsiakais) should have known wider popularity but it never happened. A second self-released record CLEAN MODERN COMFORTABLE followed 3 years later. Bands spawned of  UV's demise include THE SECRET SEA.

Consumer Material
by
UV Protection
is licensed under a
Attribution-NonCommercial-NoDerivatives (aka Music Sharing) 3.0 International License
.