Album Description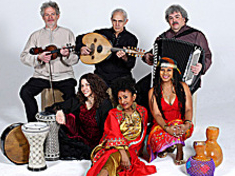 The Sounds of Taraab is a newly formed ensemble that performs a particular genre of music from Zanzibar and coastal Eastern Africa. Known as "Taraab", this musical form consists of basically African rythmn and Swahili lyrics, heavily influenced by Arabic and Indian popular music.There are other influences as well, since this region has, since ancient times, been a hub of business, trade, and cultural intermingling.

Vocalist Alsarah passionately conveys the Taraab lyrics of love and longing, while she is supported by oud master Haig Manookian. Accordion virtuoso Ismail Butera adds fleeting cadenzas and earthy drones, while multi instrumentalist Michael Hess adds color and ambience with violin and nai flute. Supporting all this is the powerhouse percussion team of Tiye Giraud and April Centrone, who's drumming on dumbek, riq, pandero, shekere and a host of other instruments gives the group it's driving, very African beat.
Engineered by Chris Stubbs.
Radio Program
Live at WFMU on Rob Weisberg's Show on 4/7/2007
Live at WFMU on Rob Weisberg's Show on 4/7/2007
by
The Sounds of Taraab
is licensed under a
Attribution-NonCommercial-ShareAlike 3.0 International License
.