You came this way:
Home
> Curator:
WFMU
>
Ritualistic School of Errors
Ritualistic School of Errors

(2 Albums, 5 Tracks)
Artist
MEMBERS:
Gregory Jacobsen
additional contributions by:
Drew Ziegler
Loach Fillet
Matt Marsden
Thymme Jones
Monika Bukowska
The Ritualistic School of Errors is the experimental music project of Gregory Jacobsen. Based in Chicago since 1994, his paintings were first to garner high praise from critics and collectors. Undistracted, Jacobsen devoted himself to music and performance art as gorgeous and grotesque as his visual art.  In 2006, a DVD compiling Jacobsen's 16mm and 8mm films, videos, and performance pieces was released on Resipiscent together with a book of  his pen and ink illustrations and a re-release of the band's first full-length CD.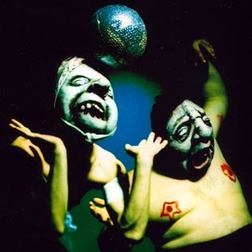 Resipiscent