Artist
MEMBERS:
Kareem Bunton - vocals
guitar
George DeVoe - guitar
Vic Borocas - drums
Charles Becker - bass
Konstance Patton - vocals
percussion
Hard times and broken hearts often make for the best music. Juggs front man Kareem Bunton has seen his share of sorrow as well as triumph and this is evident in the music he writes. Difficult themes are often approached with humor and slick word play dating back to the inception of the blues. African Americans call this type of story telling "signifiying", a mix of song, autobiographical tales, and African and Christian parables intertwined to amuse, terrify, or inspire an audience. 
Raised in Kentucky the self proclaimed "music nerd" describes his music as landing in between Mudhoney and Muddy Waters with a bit of Funkadelic and the Temptations thrown in for color. The Juggs are loud, fast, psychedelic, and muscular. But more importantly they are soulful, like make you weep or get somebody pregnant soulful. Quit your job and hit the road soulful, lose your mind and find it again soulful. As a band they are truthful and sincere in their intentions. They want to rock with you, no strings attached.
Mr.Bunton started the band in 2008 after returning from a tour with rapper El-P. A side man for many years the road had taken it's toll on his spirit and his family life, it was time for the big man to sit down for a while. While resting he wrote a batch of songs that would become The African Queen EP(2010). Brutal and to the point the semiautobiographical record documents a recent divorce, long drinking binge, and a rocky southern childhood. With some minor label interest and glowing reviews Kareem transitioned from sideman to front man and began to write more songs and a rock band was born.
The Juggs current line up consists of vocalist/percussionist Sister Konstance Patton, finger picking shredder George Devoe, bassist Charles Becker, and the explosive Vic Barocas driving the trap kit. 
(thejuggsmusic.com)
» READ MORE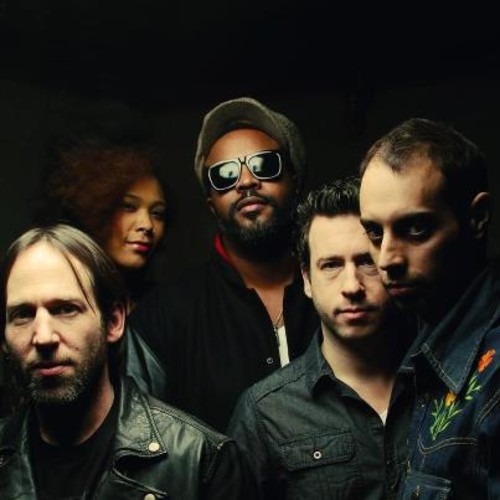 "I Hear Voices" EP