Album Description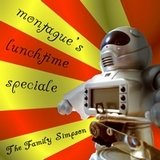 Released:
September 29th, 2009
Imagine being holed up in a strange bleak industrial estate on the edge of what appears to be an eerily deserted town where bars shine desolate, their signs promising "music here tonight" without any sense of irony. This is where Montague started, sketching lyrics on digital photographs in late November when the mall closed and the entertainment retreated quickly to their homes. The fact they rarely shut the curtains or indeed their doors only served to inspire more...

Acoustic guitars, electro beats, harmonies, keyboards and samples abound in well-crafted tales from the binary brain of a domestic robot on the edge of madness. Ever seen a ghost? In a can of soup? Hear the story on this album and find out if our hero makes it to the morning. What do the harpies sing in the quarry? Is there a reason lone divers don't always kick for the surface?

The Family Simpson is a 31 year old meddler who loves tangents. His music has been around for nearly a decade and he is not out of ideas or stories yet. When he is not warping samples he attempts to give his family a well rounded musical education in the completely obscure and teaches renewed appreciation of 20th century technology. At times his songs sound as beautiful as lemonade soaking through a summer dress. At other times his music sounds like a kettle being thrown around in a fridge.

Home @ http://thefamilysimpson.wordpress.com  
MySpace @ http://www.myspace.com/thefamilysimpson  
Last.FM @ http://www.last.fm/music/the+family+simpson
Album
Montague's Lunchtime Speciale
Montague's Lunchtime Speciale
by
The Family Simpson
is licensed under a
Attribution-NonCommercial-ShareAlike 3.0 International License
.