Artist
MEMBERS:
Brad Foster on drums
Jamez Day on guitars/vox
Jamie Drake on bass occasionally
Angular, heavy rock two-piece (formerly a three-piece) featuring Brad Foster on drums and Jamez Day on guitars/vox. Both also add whoopass can, according to the band's myspace. Jamez Day helps run local musical instrument store/custom pedal builders B Sharp Music. Last year's release The New One Two is rock solid, great stuff.
(Jason Sigal at WFMU's Beware of the Blog!, 4/2/2009)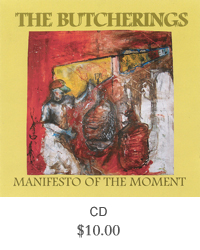 The Butcherings Website