Album Description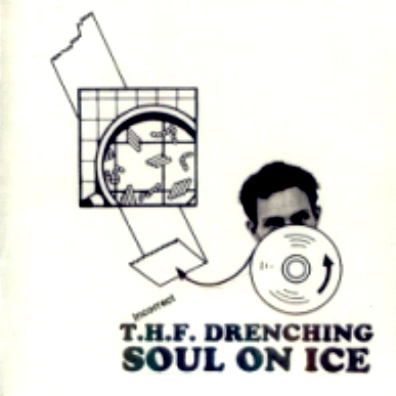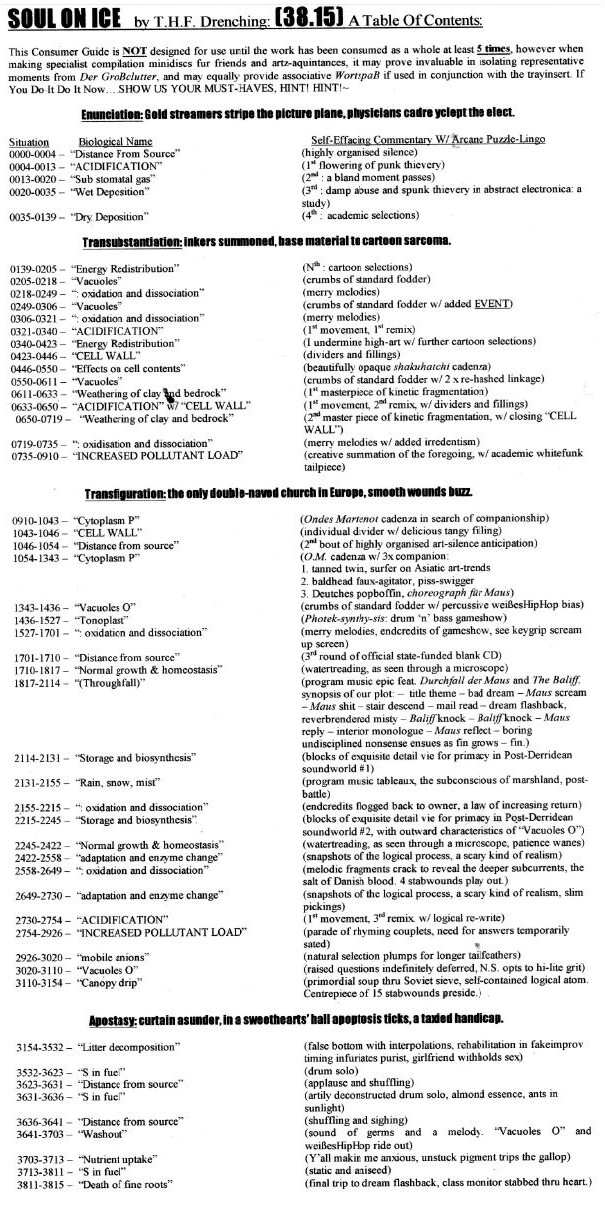 SOUL ON ICE IS IN 52 SECTIONS, SPREAD ACROSS 4 MOVEMENTS.  IF YOU WANT TO KNOW ABOUT ALL THE TINY LITTLE SECTIONS, YOU'LL HAVE TO EMAIL ME.  BUT FOR THE APPROXIMATELY NORMAL CIVILIAN, THE MOVEMENTS ARE:
(00:00-01:39) ENUNCIATION: Gold streamers stripe the picture plane, physician's cadre yclept the elect. (parts 1-5)
(01:39-09:10) TRANSUBSTANTIATION: Inkers summoned, base material to cartoon sarcoma. (parts 6-20)
(09:10-31:54) TRANSFIGURATION: the only double-naved church in Europe, smooth wounds buzz. (parts 21-43)
(31:54-38:18) APOSTASY: curtain asunder, in a sweethearts' hall apoptosis ticks, a taxied handicap. (parts 44-52)
DRENCHING'S FIRST EVER ALBUM IS A BLOCK-FORM COMPRESSED OPERA-CYCLE.  NODS TO IMPOTENT MINIMAL RHETORIC, SWIPES TO BE HAD AT PISS-SWIGGER, BALD FAUX-AGITATOR, BAILIFFS, GUTLESS.  COMPOSED AT 6 SCROPE AVENUE IN YORK DURING A 3-WEEK PAUSE IN ASSEMBLY-LINE WORK, THIS IS A HI-SPEED PRITTED ENSEMBLE FROM VOCAL, WITH ALL PERCUSSION GUARANTEED TO APE PRINCE C. 1985.  EACH SOUND PLACED UNDER DASTARDLY INFLUENCE OF UNETHICAL COMPOSERLY PRESSURE FROM WITHOUT, FIZZ FOLLOWS OWN DIAGRAMMATIC, NIGGARDLY, IRREPRESSIBLE, TARDY FORMAL LOGIC.  A MUST HEAR!  (NOTE TO EURO-FAINTHEART, ITALIAN, LIBERAL-TEUTONIC ESPOUSERS OF BRIEF "TRANSLUCENT" SWIZZ; CONTAINS CAREFULLY-HIDDEN RUN-THROUGH OF "STAR-SPANGLED BANNER", AND REMAINS ONLY VIABLE LEFT ALTERNATIVE TO FOUL, GENTLE STENCH OF DECONSTRUCTED "POST-RAVE" ELECTRONICA "RELIQUISHING POWER".)
Soul On Ice
by
THF Drenching
is licensed under a
Attribution-Noncommercial-Share Alike 3.0 United States License
.