Album Description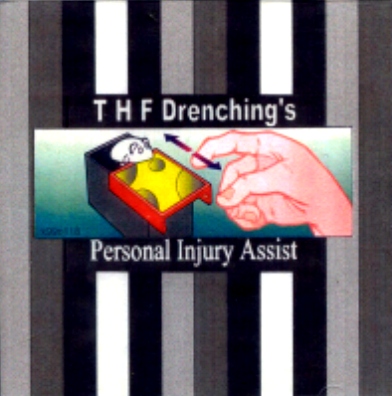 Released:
February 1st, 2002
A 100% OF 7 COMPLETE MONTHS IN THE MAKING, DRENCHING SLAVED AWAY LIKE A HOPELESSLY UNPOPULAR, INTROVERTED SCHOOLCHILD TO DRAG THIS, HIS FIRST FULLY-COMPOSED ALBUM FOR NEARLY 3 YEARS, INTO THE WEEDY SPOTLIGHT OF THE PENNILESS AND MARGINALIZED AVANT-GARDE. BLOCKED OFF LIKE A REPLICA VOODOO BREASTPLATE, HIGHLY COLOURED, PITCHED AT THE SPEED OF INSECT CONSCIOUSNESS, THIS ALBUM COMPRISES EVERY IDEA DRENCHING HAD IN 7 MONTHS FOLDED AND COMPRESSED INTO BLINDING MINIATURE CAR-CRASHES OF COASTAL JOKE-SHOP ACHTUNG, AND AFTER THE FINAL ELECTRONIC PUKE WAS PASTED ON, HE RECLINED IN HIS BACKLESS CHAIR, LIT A CHEAP CIGAR AND MARVELED AT HIS OWN BREATHLESS CREATIVITY LIKE A SMUG SHIT.
Album
Personal Injury Assist
Personal Injury Assist
by
THF Drenching
is licensed under a
Attribution-Noncommercial-Share Alike 3.0 United States License
.