Album Description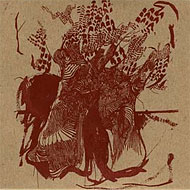 Released:
January 23rd, 2009
Recorded:
November 26th, 2008
Fourth full-length of bewitching juju from the preeminent ladies of primordial psychedelic mysticism. Recorded in Philadelphia with members of Espers. Original art by UK artist Trevor Simmons.

Single Tracks
Curse the Traced Bird
Curse the Traced Bird
by
Spires That in the Sunset Rise
is licensed under a
Attribution-Noncommercial-Share Alike 3.0 United States License
.
Secret Eye