Album Description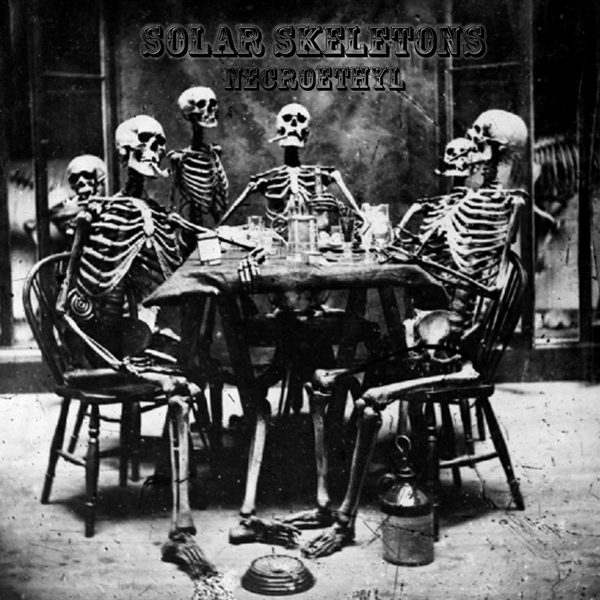 Released:
January 6th, 2009

The dead sons of the Sun deliver their minimal industrial hypnothic doom blues
waves, dealing with male alcoolism and the relationship with female gender,
pressed on heavy 180gr Marble Grey Vinyl and MP3/FLAC.
After their total invasion of Mars and Pluto, The Solar Skeletons choosed the center of earth power,
Washington DC, to start their crusade in january 2006. They quickly established their HQ in Brussels,
to have a panoptical sight on multiple populations, and so they applyed their stage propaganda
over this area alongside other preachers such as Parade Ground, Otto Von Schirach, Le Dernier Cri,
Koonda Holaa, Bex... Their dressed up, psychedelic and blasphemous performances are
a total psychic weapon that leads the audience in absurd apocalyptic visions of armaggedon.
Behind this duet are hidden 2 french musicians formely known as TZII and RIPIT.
Since over 10 years, these two singular artists played all over the 5 continents, from New york
to Tokyo, from Paris to Nouakchott, from Sydney to Montreal, taking part in several musical and audio/video projects.
This record features also Kamilsky (a.k.a KOONDA HOLAA) and his daughter Schovenka Isabelle.


recorded at Silent-Block Studio, Brussels :
http://www.myspace.com/silentblockstudio

mastered by Yann Dub at Angstrom Studio, Brussels :
http://www.angstrom-mastering.com

co-released by :
Radon Uropa http://www.myspace.com/vautouroperator
Night On Earth http://nightonearth.info
Toolbox http://www.toolboxrecords.com
Aïnu http://ainurecord.free.fr
Amertume http://www.myspace.com/amertume666
Marasm http://dfriche-tg.org/marasm
Saucisse Lentilles http://tendresseetpassion.free.fr
Bruit de Fond http://www.bruitsdefond.org
BTK http://www.myspace.com/badtastekrew
Necroethyl
by
Solar Skeletons
is licensed under a
Attribution-NonCommercial-NoDerivatives (aka Music Sharing) 3.0 International License
.