You came this way:
Home
> Curator:
ccCommunity
>
No Color
No Color

(1 Albums, 8 Tracks)
Artist
"No Color is a musical concept born from the collaboration between Mobster and Djeha (Screenatorium) two artists in the industry trip hop. A willingness to explore other sides of music absctract / hiphop / downtempo project pushed the No Color in a world of sound tinged with nostalgia. They decided in 2009 to launch their EP project. The official release is March 17, 2010, all of which are available here on the net label Freezeec." 
Google translated from original French:

"No Color est un concept musical né de la collaboration entre Mobster et Djeh (Screenatorium) deux artistes de la branche trip hop. Une volonté d'explorer d'autres faces de la musique absctract / hiphop / downtempo a poussé le projet No Color dans un univers sonore teinté de nostalgie. Ils décident en 2009 de lancer leur projet d'EP. La release est officielle le 17 mars 2010, le tout étant téléchargeable ici sur le net label de Freezeec."
» READ MORE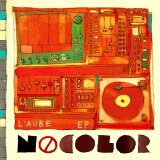 Freezec