Album Description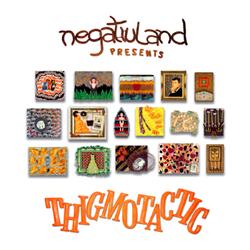 from NegativMailOrderLand.com:
"Thigmotactic" continues in Negativland's decades long collage and cut-up tradition, but while the trademark sound of found audio elements is sparingly collaged through-out, the cutting up here is also in the lyrics, created by combining dream journals, bits of advertisements, found poems, automatic writings, stream of consciousness, old National Geographic articles, and more.

The fifteen songs and two instrumentals were written, composed and performed by Negativland's Mark Hosler, with contributions from the rest of the group, and with well-known San Francisco noisemaker Thomas Dimuzio contributing lots of rather unexpectedly normal sounding instruments, arrangements and production.
Thigmotactic
by
Negativland
is licensed under a
Attribution-NonCommercial-NoDerivatives (aka Music Sharing) 3.0 International License
.
NegativMailOrderLand