Album Description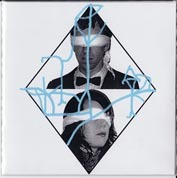 NOTV fell into existence with a found organ, broken bass guitar, borrowed drum and some old doom poetry. Lucy Cliché executes distorted keyboard melodies, while Matthew P Hopkins plays psyched out bass guitar, which is all kept together with pounding drum machine beats. This is their debut release a self-titled 7" capturing the spectrum of sound NOTV creates. Side A features the single 'All Aboard!' the self-proclaimed dance floor hit, plus the short and sharp 'God Nor Devil'. (alternate versions to the Blood Pressure Sessions CD) Side B features the slow doomy 'A Sunken Piece of Rubbish'.
"Very stark in a black and white kind of way, and really quite hep" – The Wire
Debut 7"
by
Naked on the Vague
is licensed under a
Attribution-Noncommercial-Share Alike 3.0 United States License
.
dual plover
Metamkine (France)