You came this way:
Home
>
Mother Mother
Mother Mother

(2 Albums, 0 Tracks)
Artist
MEMBERS:
Ryan Guldemond Vocals / Guitar
Molly Guldemond Vocals / Synth
Jasmin Parkin Vocals / Keyboards
Jeremy Page Bass / Horns
Ali Siadat Percussion
Vancouver Canada's Mother Mother are generating much recognition with their original approach to modern pop/rock music; a beautifully bent portrait of vocal harmony, clever, offbeat lyricism, and dynamic instrumentation. Their sound is best encapsulated on their sophomore album, O My Heart, produced by Howard Redekopp (Tegan and Sara, The New Pornographers).
O My Heart is Mother Mother's second album on Last Gang Records (Metric, DFA 1979, The New Pornographers, Crystal Castles) and since its release in September of 2008, has achieved great milestones:
•    #1 on Chartattack's weekly Campus Radio Top 50 for four weeks
•    #1 on !Earshot's weekly Campus and Community Radio Top 50 for six weeks
•    #1 on !Earshot's monthly Top 200 for two consecutive months (ranking at #13 in the Top 200 albums of 2008)
In its year end accounting of noteworthy albums during 2008, iTunes Canada positioned O My Heart as:
•    #3 Best Canadian Album of The Year
•    #3 Best Indie Album of The Year
•    #5 Best Alternative Album of the Year
•    #5 Best Overall Album of the Year
The song "Body of Years" won the band a CBC Radio 3 Bucky Award under the category of Best Vocals and was rated #31 by iTunes for Best Song of the Year - All Genres. South of the border, O My Heart made its American debut as the #6 most added album on CMJ's Top 20 weekly adds, charting as high as #24 on the CMJ Top 200.
Not only has the charts taken fondly to Mother Mother, but the critics as well:
"One of the most exciting bands coming out of Canada." - Perez Hilton
"Mother Mother coos lovely boy-girl harmonies, masking their dire lyrics while slyly exulting in the cleansing blaze." - Spin Magazine
"Vocal Harmonies even Queen would be proud of" - UR Chicago Magazine
"Takes the lyrical genius of the first [album], pushes it beyond all expectations and then pairs it with the band's trademarked  intertwining vocal harmonies." - Exclaim!
"One of the more captivating pop albums of the year" - Metro
"Mother Mother's layers of harmonies, complex choruses and sheer energy makes this disc one of the best of the year." - Now Magazine
Also paramount to the rising success of Mother Mother is their live show. On stage, this group of five delivers a big sound, executing pristine vocal harmonies while utilizing a variety of multi-instrumental talents. With engaging stage chemistry, Mother Mother recreates the essence of their recorded music with precision and conviction, while never losing touch with the power of spontaneity and abandon. No stranger to life on the road, Mother Mother tours constantly and is building a large and dedicated fan base in North America. They've graced the stage with such artists as The Killers and Spoon, and have performed on a diverse array of festival/showcase stages including SXSW, CMJ, Pop Montreal, V-Fest and both the Vancouver and Montreal International Jazz Festivals.
Mother Mother kicked off 2009 by hitting the road, opening for Canadian rockers the Sam Roberts Band in the United States, with stops at Canadian Music Week in Toronto and SXSW in Austin along the way. By the looks of it, 2009 is shaping up to be another great year for Mother Mother.
» READ MORE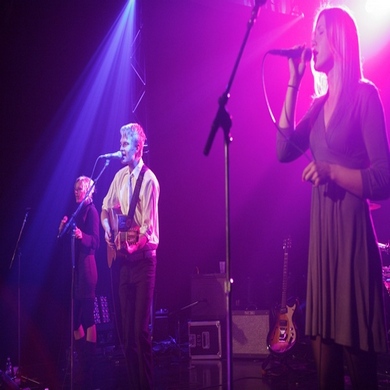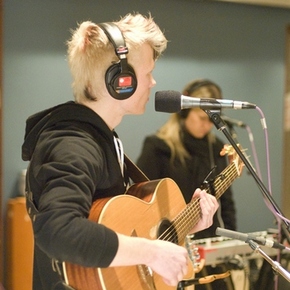 CBC Radio 3 Concert and Session