You came this way:
Home
> Curator:
Arbiter Records
>
Mieczyslaw Horszowski
Mieczyslaw Horszowski

(1 Albums, 1 Tracks)
Artist
Mieczysław Horszowski (1892 - 1993) was a Polish pianist.
Horszowski was born in Ukraine and was initially taught by his mother, a pupil of Karol Mikuli. He became a pupil of Teodor Leszetycki in Vienna at the age of seven.
In 1901 he gave a performance of Beethoven's Piano Concerto No. 1Warsaw and soon after toured Europe and the Americas as a child prodigy. In 1905 the young Horszowski played to Gabriel Fauré.
-Wikipedia, Mieczyslaw Horszowski

» READ MORE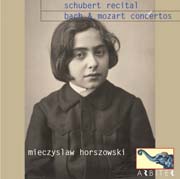 Qualiton Imports Ltd