Album Description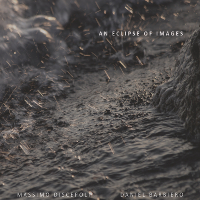 TAGGED AS:
massimo discepoli
,
daniel barbiero
,
contemporary
,
avant garde
,
jazz
,
double bass
,
electronic
,
drums
,
experimental
,
improvisation
,
ambient
,
See Less...
Released:
September 15th, 2016
Selected as one of the best 2016 album by Avant Music News
Selected as one of the best 2016 album by Sonfmarketing
"Is this music jazz? I'd argue yes; there are improvised pieces and parts assembled in a very thoughtful inspired manner by two sympathetic musicians." All About Jazz (Mark Corroto)
""An Eclipse Of Images" is an uncategorizable treat. It combines a haunting, electroacoustic feel with spacious drones and loose percussion. Not quite in the ambient, classical, rock, free improv, or jazz vein, Discepoli and Barbiero borrow deftly from each of these styles and combine them into new forms. Highly recommended." Avant Music News
"An exceptional mixture [...] An album one of its kind" Percorsi Musicali
"Fantastic...really really fine work" Don Campau (No Pigeonholes)
"Definitely a remarkable work, in which two musicians of great sensitivity have the opportunity to establish a inspired and fruitful dialogue" DrumSet Mag
"A collaboration certainly successful, interesting especially for its ability to generate "hybrids" able to escape any attempt to catalog" So What
"The Stream Under Consciousness" featured as Track Of The Day on All About Jazz
"The brilliant interaction between the double-bass, percussion, and electronic synth sounds create an experience that constantly leaves you in different musical worlds. You hear jazz, avant-garde classical, ambient and so much more within this record that each listen brings a new perspective. It is a truly wondrous thing." Mixolydian Blog
""An Eclipse of Images" displays a sense of loveliness courtesy of Discepoli-Barbiero's uncanny ability to communicate with each other." Beach Sloth
"A successful album, which is worth savoring carefully." Traks
"Massimo Discepoli and Daniel Barbiero are able to provide the audience with a composition that whilst not following regular pattern doesn't leave the brain confused by the ideas as they are equally capable of tempering the juxtapositions in a manner that doesn't reveal discordance, rather combinations of contrasting harmonics which are able to gradually interweave and the finished product is a calmness of movement which has a sense of organic evolution." Emerging Indie Bands
"By combining their amazing talents, Massimo and Daniel were able to create melodies that are texturized electronic abstractions, music that is both soothingly melodic and startlingly discordant" The Voice Magazine
"An interesting album[...]a pleasant surprise" Progwereld
on air on: Head Room, No Pigeonholes, Crow Versus Crow, Phantom Circuit, Curved Radio, O Dominio Dos Deuses
interviews on: Oblique Musique, Bandwidth.fm





Between the creative impulse and its material image is the opacity of translation, whose shadow is the resulting work—a hybrid of intuitive forms and conscious craft. If the sonic image's ultimate source is in the currents running beneath the threshold of reflection, its realization lies just as much in the choices of line and structure made in real-time performance or in the studio.

The seven multilayered pieces presented here are hybrids meticulously built up of acoustic and electronic elements both composed and improvised. Synthesizing a complex relationship of lyricism and abstraction, acoustic double bass and drums define melodic and rhythmic figures against an ambient field constructed of electronic textures. The emergent sound is a weave of modallyinflected melodies floating over propulsive, intricate rhythms and harmonic blocks carved out of electronic matter. Daniel Barbiero
Album
An Eclipse of Images
An Eclipse of Images
by
Massimo Discepoli - Daniel Barbiero
is licensed under a
Creative Commons Attribution-NonCommercial-NoDerivatives 4.0 License
.
Bandcamp