Album Description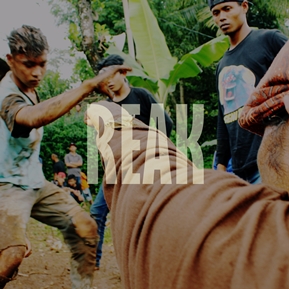 L'esprit d'adolescents est littéralement troqués pour quelque chose d'invisible mais sauvage. Le chamane les induit dans une profonde transe. Il transforme leur état de conscience humaine par un état de conscience animale. Leurs identités changent, au point d'agir comme le ferait alors une bête. Ces jeunes sont sous l'influence seule du chamane et le demeureront, aussi longtemps qu'il le désire.
Dans les environs de Bandung à l'ouest de Java en Indonésie, se déroule un REAK, rituel remontant d'un passé animiste accroché à un présent urbain.
▲
The young men's spirits are exchanged for something invisible but wild. The shaman induces them into a deep trance. He transforms their state of human consciousness into a state of animal consciousness. Their identities change to the point of unrestrained beastliness. These young men are under the singular influence of the shaman and will remain so as long as he desires. 
From the outskirts of Bandung in West Java in Indonesia comes REAK, a ritual from an animistic past clinging to an urban present.
Credits:
Performance de Sanca Birawa.
Son: Palmer Keen et Julien Hairon
Un grand merci à Palmer Keen et Uu Asep / Many thanks to Palmer Keen and Uu Asep.
Les Cartes Postales Sonores // Aural Archipelago
Juillet 2016.
lescartespostalessonores.tumblr.com/
auralarchipelago.com
Learn more about it on: https://lescartespostalessonores.tumblr.com/
Album
REAK △ Sanca Birawa △ Trance in Indonesia
REAK △ Sanca Birawa △ Trance in Indonesia
by
Les Cartes Postales Sonores
is licensed under a
Attribution-NonCommercial-ShareAlike License
.
25 minutes REAK documentary