Album Description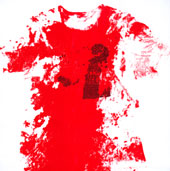 LIVE IN LISBOA / MINNEAPOLIS, 7" ltd 500 copies. (dualplover/freedom from) 2005. SOLD OUT!
side A - Lisboa 230204, side B - Minneapolis 051203.
The first publically available offering of the good justices glass munching adventures. Side A features a recording of his bloddiest show ever in Lisboa, Portugal. The snow started when he lacerated his forehead and finished with his Tony Clifton t-shirt soaked in blood, the stain has been lovingly reproduced and screenprinted for the singles cover. Side B captured on a walkman in Minneapolis was not as bloody but that shouldn't really matter as this is in reality a audio format.
Live Performance
Live in Lisboa
Live in Lisboa
by
Justice Yeldham
is licensed under a
Attribution-Noncommercial-Share Alike 3.0 United States License
.
dual plover