Album Description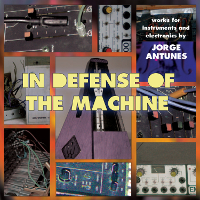 This new cd by Brazilian composer Jorge Antunes, one of the pioneers of electronic music in South America consists of 7 works for instruments and tape, composed between 1965 and 2003. 

Canção da Paz was composed in 1965, and is one of the first pieces in Brazilian music history to use a traditional instrument accompanied by pre-recorded electronic sounds. Insubstituível 2ª was written for the cellist Iberê Gomes Grosso (1905-1983). Antunes was an early pioneer in electronic music. The piece, almost entirely written in five beats time signature, has always been well received despite its use of electronic, unusual sounds. In Invocação em defesa da máquina's first movement, the pre-recorded electronic sounds form a backdrop on which the percussion instruments perform dialogued polyrhythms. In the second movement the four percussionists act as soloists, without the intervention of electronic sounds: this is the reflection of the musician on the theme. The third movement is the consecration of pure electronic music: Music humanizes the machine. The percussionists remain silent, and the soloist is a machine: the equipment that reproduces the pre-recorded electronic sounds. Mixolydia was composed for theremin player Lydia Kavina. The melodic material in Mixolydia is completely based on the scale ti-do-re-mi-fa-so-la-ti, which is precisely the Greek Mixolydian scale used in the fourth century BC. For Miró Escuchó Miró Antunes catalogued and organized Miro's typology of signs to transform it into a collection of sound objects which are juxtaposed by the piano soloist on the electro-acoustical construction. The piano participates in different ways in the three sections of the work. In Rituel VioletAntunes used his theory of relationship between sounds and colors to construct a background of electronic sustained pitches. The saxophone soloist transforms these virtual trajectories in sounds and in real gestures on stage. The sound material includes concrete sounds produced directly on the strings of a piano and also electronic and computer generated sounds.Toccata Irisée is written for a percussionist who plays marimba and cuíca (Brazilian friction drum with a stick). The basic sound material comprises electronic sounds and cuíca sounds. The percussionist's virtuosity is the strong element in the work. In playing the marimba, the interpreter uses as many as four different drumsticks, two in each hand, to execute melodies accompanied by chords with three and four sounds. The pre-recorded electronic sounds form at once both a backdrop and a support base, upon which the marimba and the cuíca parade expressive syntaxes of musical objects. At the same time the electronic sounds act as references establishing a constant dialogue in complex synchrony with the live performer.     
Album
In Defense of the Machine
In Defense of the Machine
by
Jorge Antunes
is licensed under a
FMA-Limited: Download Only License
.