Album Description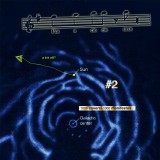 Released:
October 31st, 2005
Cin Cin Man is a composition created on the train in China, on a Nokia mobile phone composer tool.

Cin Cin Man was COPYRIGHTED and promptly COPYLEFTED (anybody is free to use it, improve, change, mutilate, but with NO commercial purposes).

The IDEA is to create a project where 1000 COVERS of "Cin Cin Man" song will be composed and published.

PREPARATIONS were initiated from the collection and coordination centre in Amsterdam.

Covers range in style from ring tones to pop songs, classical composition, opera, jazz, muzak, country and western, Zulu, bossa nova, rock, r&b, un-describable etc., all very personal and unique.

They still bear the title Cin Cin Man. 

The moment cover number 1000 arrives to the database of the coordination centre in Amsterdam, the FINAL PHASE will be initiated.

An anthology COMPILATION disc will be released with 1000 versions of Cin Cin Man.

The examples of the disc (Blue Ray Disc/25 GB) will be donated to ESA (European Space Agency), CSA (China Space Agency) and other space agencies to be taken into deep space and released for ET (extra-terrestrials), as essential part of the COMPILATION (re)presenting artistic highlights of the once CIVILISATION from planet Earth.

For now 12 versions are available from WM Recordings.

Related website: Cincinman.info
Album
1000 Covers 1000 manifestos 2
1000 Covers 1000 manifestos 2
by
Jerry King Musser
is licensed under a
Attribution-NonCommercial-ShareAlike 3.0 International License
.