Album Description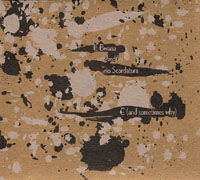 Gilmore's Girls, Ringing (Ano)the(r) Bell, and Diapason, maybe were specifically written for Trio Scordatura. Cicada 4AA was the first piece of If, Bwana's they played (though not written for them in particular). E (and sometimes why) and All for Alf(run) were both composed after the initial recordings and used materials from those sessions. The Tempest, Fuggit, used some of Trio Scordatura's sounds and combined them with an absolutely awesome, over-the-top performance/reading of a section of Shakespeare's The Tempest by Michael Peters (of Poemrocket).
Album
E (and sometimes why)
E (and sometimes why)
by
If, Bwana
is licensed under a
FMA-Limited: Download Only License
.