Album Description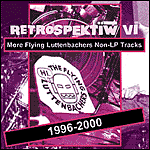 Here are a pile of twisted squonk thrash tunes from the immortal Flying Luttenbachers. This CD contains tracks collected from various compilations, live recordings, and studio out takes.
Elements of grindcore, free improvisation, metal, prime no-wave, and chaos are whipped into a smashing blend for your auditory edification. If you are the sort of person who appreciates Peter Brotzmann, Red Transistor, and Discordance Axis you probably will groove to this musical adventure. (-via SlaveUnion.com)
Retrospectiw IV
by
Flying Luttenbachers
is licensed under a
Attribution-NonCommercial-ShareAlike 3.0 International License
.
Slave Union