You came this way:
Home
>
Firewater
Firewater

(1 Albums, 0 Tracks)
Artist
Firewater was birthed in a Brooklyn basement in the long, hot summer of 1997. Depressed, broke, and desperate, ex-Cop Shoot Cop leader Tod A tossed away a major label deal and a free meal ticket to launch what--at the time--was a crazy proposition: a punk band fueled by gypsy and klezmer tunes. Tod had stumbled upon a dusty box of records and cassettes in a Russian junk shop on West 14th Street, and had fallen in love with the happy/sad conflict embodied in Eastern European melodies. He wanted to combine the mystery and melodrama of these tragic-comic sounds with the energy of his first love: punk rock.
When Firewater's first record, Get Off The Cross (We Need the Wood for the Fire), came out, critics and fans were excited--and confused. The press was enthusiastic--but between the lines lay a lot of questions: How can we pigeonhole this? What is this all about?
However, ten years (and five records) later, Tod's crazy idea doesn't sound quite so crazy anymore. Bands as diverse as Gogol Bordello, Balkan Beat Box and Beirut owe a debt to his early adventurousness. In the meantime, the Internet has opened the ears of millions of people to music from around the world. Firewater's music has never fit very well into pre-fabricated boxes. A compulsive traveler, Tod has always been inspired by the stories, people, and music of the places he has visited. The records that followed (The Ponzi Scheme, Psychopharmacology, The Man on the Burning Tightrope, Songs We Should Have Written) were musical mash-ups that threw together flavors as seemingly disparate as spy jazz, ska, classic Bollywood, salsa, cabaret, Mexican banda, and Russian folk--to create a distinctive brew that was always 100% Firewater.
Every interesting development in music has been the result of clashing cultures--of mash-ups: the Rom ('gypsies') migrated from India through Eastern Europe to infuse Balkan music; Iberian ideas fused with indigenous South American tunes to form tango and mambo and meringue; the American shotgun marriage of Saharan blues and English folksongs gave birth to rock'n'roll - these are but three of many examples. Firewater has always fed on these strange amalgamations. "It's a bit like being a mad scientist," Tod says. "You mix a bit of this with some of that. You're never sure what's going to happen". Not every experiment is successful. "But I'd rather blow up the laboratory than keep reinventing the wheel." Some songs have been flawed, over-the-top, even brutal. But they always seem to capture some humor and beauty. Through Firewater's canon runs a jagged line of lyrical intellect and unrelenting emotional honesty.
Never one to rest on a gimmick, Tod is constantly challenging himself and his fans by musically re-inventing the band. Neither strictly "solo project" nor "rock group", Firewater could best be described as a loose musical collective. A steady stream of diverse talent has flowed through Firewater's open doors. Members over the years have included Duane Denison (Jesus Lizard), Jennifer Charles (Elysian Fields), Oren Kaplan (Gogol Bordello), and Tamir Muskat (Balkan Beat Box). Firewater will never revert to a mere formula. "I think there will always be people that would rather be surprised, instead of just satiated."
(From Bloodshot Records, 5/27/09)

» READ MORE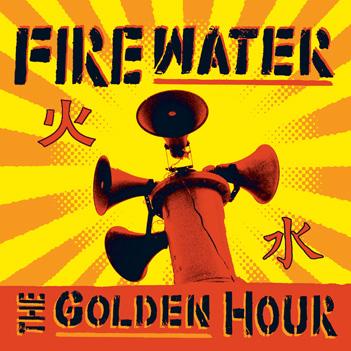 Bloodshot Store