You came this way:
Home
> Curator:
Arbiter Records
>
Ferruccio Busoni
Ferruccio Busoni

(2 Albums, 2 Tracks)
Artist
Ferruccio Busoni (1866 – 1924) was an Italian composer, pianist, editor, writer, piano and composition teacher, and conductor.
Ferruccio Busoni was born in Empoli in Tuscany in Italy, the only child of two professional musicians. His father, Ferdinando, was a clarinetist and man-about-town. His mother, Anna, was an Italian from Trieste and a pianist. 
Busoni was a child prodigy. He made his public debut on the piano with his parents, at the age of seven. A couple of years later he played some of his own compositions in Vienna where he heard Franz Liszt play, and met Liszt, Johannes Brahms and Anton Rubinstein.
-Wikipedia, Ferrucio Busoni
» READ MORE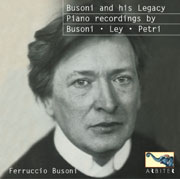 Qualiton Imports Ltd