Album Description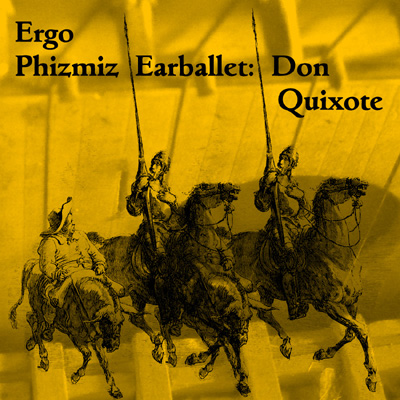 Five scenes from Cervantes' "Don Quixote", in an imaginary ballet setting.
"Introduction to Don Quixote & Windmills" - We meet an old man, convinced he is a medieval knight errant.In the second part of the piece he does battle with a group of windmills, under the impression they are giants.
"Quixote Dreams of Dulcinea" - The Don daydreams of his divine lady, really a local peasant girl.
"The Golden Helmet" - Quixote hijacks and subsequently sports a barber's basin on his head, convinced it is 'Mambrino's Helmet'.
"The Cave of Montesinos and What the Knight Saw There" - After being lowered into a deep cavern, the Don experiences a vision in a dream meadow.
"Sancho's Wife" - The wife of Don Quixote's squire, Sancho Panza.
Field-Recordings by The Travelling Mongoose
Music composed, performed & produced by Ergo Phizmiz
Recorded 23-24 June 2009
Album
Earballet - Don Quixote
Earballet - Don Quixote
by
Ergo Phizmiz
is licensed under a
Attribution-Noncommercial-Share Alike 2.0 UK: England License
.