You came this way:
Home
> Curator:
WFMU
>
Eleventh Dream Day
Eleventh Dream Day

(1 Albums, 6 Tracks)
Artist
MEMBERS:
Rick Rizzo
Janet Beveridge Bean
Douglas McCombs
Mark Greenberg
Jim Elkington
Since first hitting the road in a battered Econoline van in the 1980s, Eleventh Dream Day continues to build on their history by moving forward musically, while never forgetting what inspired them. On Works For Tomorrow, core band members Rick Rizzo, Janet Beveridge Bean, Mark Greenberg, and Douglas McCombs are joined by James
 Elkington (Brokeback, Tweedy), marking the first
time the band has recorded with a second guitarist 
since 1994. Elkington's addition has unleashed the band's strengths. The ferocious and visceral interplay between Rizzo and Elkington charge the band with a joyous exuberance that sweeps the listener in for the 43 minutes of Works For Tomorrow. The album also features performances by long time friend Martin Wenk (Calexico) and Chicago stalwart Rich Parenti on horns.
Eleventh Dream Day is known for their raw, inexhaustible live performances. They honed the songs on Works For Tomorrow during an extended residency at Chicago's Hideout Club, and the packed, sweaty energy of those shows is unmistakable on this new recording. Drummer and sometime lead vocalist Janet Beveridge Bean breaks free as never before, her vocals igniting the songs with an animalistic urgency, as she furiously propels the songs with pure command from behind the kit. Works For Tomorrow was recorded and mixed by Greenberg at the Loft (Wilco's studio) and Mayfair Recordings. The 10 tracks on the album center on embracing a future which does not succumb to the past, but challenges it in order to adapt and grow. This reframing and understanding of history is keenly stated in the album's title track when Rizzo sings, "You see her, this must be the beginning or the end of whatever that was."
"Vanishing Point," the album's opening track sets the tone with its brute force and driving rhythm. Written by Bean while on long distance runs, the song captures the thrill she feels on a motorbike as she takes that perfect line through the curve, setting her up for the burst of speed on the straightaway. The guttural urgency of Bean's vocals on this track are counterpoised by a guitar tour de force. "Requiem For 4 Chambers" -- a clever song on the complexities of the human heart -- imagines the heart as a disembodied organism moving simultaneously toward destruction and light. From the reimagined, deliberate version of Judy Henske and Jerry Yester's "Snowblind," to the quieter, melodic tracks like "Deep Lakes," Eleventh Dream Day's fiery performances and inventive arrangements make for the most complex and compelling record of their career. Works For Tomorrow finds the band fixed on the road ahead, barreling toward the horizon with the radio turned up -- way, way up.  -- Thrill Jockey
» READ MORE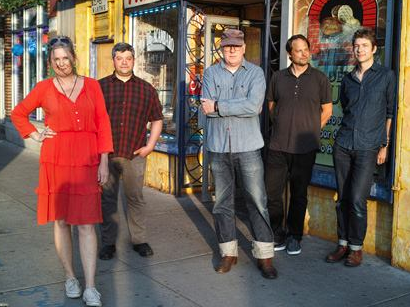 Thrill Jockey