Album Description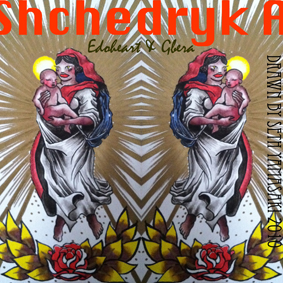 Released:
December 31st, 2010
This song is a reworking of the Ukrainian Carol of the Bells, also known as Shchedryk. It is a New Year's blessing. From wikipedia: "Shchedryk (from the Ukrainian word shchedryi; "bountiful") is a Ukrainian shchedrivka, or New Year's carol. It was arranged by composer and school teacher Mykola Leontovych in 1916, and tells a story of a swallow flying into a household to sing of wealth that will come with the following spring. Shchedryk was originally sung on the night of January 13 (Old Style), which is Shchedry Vechir (Ukrainian: Щедрий вечiр, "Bountiful Evening") to Ukrainians, New Year's Eve by the Julian Calendar."

The percussion is by Gbera (Catherine Barnes). The vocals are by Edoheart (Eseohe Arhebamen). The mix and production are by both girls, Edoheart & Gbera. Edoheart lives in the East Coast, USA and Gbera lives on the West Coast, USA. We made this work entirely via the internet without meeting in person. The cover image is a drawing by Seth Yamasaki. The cover design is by Edoheart. We wish the whole world peace and love in the coming year.

This song was recorded in 2010.

Contact:
http://edoheart.org
http://facebook.com/edoheart
http://gbera.org
http://www.facebook.com/gringaradio
Album
Shchedryk Avant Remix
Shchedryk Avant Remix
by
Edoheart & Gbera
is licensed under a
Attribution-NonCommercial-NoDerivatives (aka Music Sharing) 3.0 International License
.