Album Description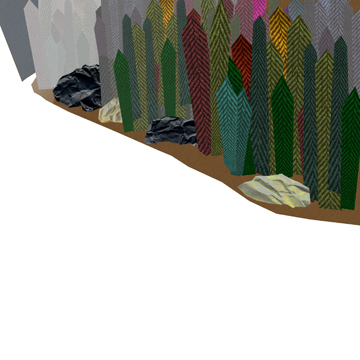 In music and literature alike, there is a certain tendency to romanticize the idea of living your life in the past. Lying on his bed with his head on his hands, the artist loses sight of the present and roams the wonderlands of his childhood with a starry-eyed gaze. At a dream-like distance and yet as real as any physical object within his reach, it is filled with golden colours, intense aromas and mysterious sounds and every new emotion is sending shivers down his spine.
Nothing in the here can compare to this fantasy of first times. No word can evoke the same meaning, no song conjure up the same magic. Not even an unsuspected kiss or a much-desired caress is capable of arousing the same rush of blood to the head that those clumsy hands of his first love unconsciously released. And so he transforms his guitar into a time machine to take him back to when each moment contained a promise, when days would never end and everything was possible.
Even though I have never been one to glorify the past, the power of nostalgia can be overwhelming. The lamentable loops of William Basinski, the heart wrenching nihilism of Dostoyevsky, the touching tragedy of Once Upon a Time in America -- in the hands of an artful narrator, we can all be moved to tears at the prospect of how far from death we once were and how a single moment can contain the seed for everything that is dear to us. Again and again, these works would confront me with my own history, confront me with long-forgotten faces, left-behind places, records I no longer spin, books I no longer read, situations I can no longer return to and mistakes I am unable to undo. They would confront me with a sudden desire to pack my bags, forsake all rules and routines and head for those undiluted moments of happiness. And the fact that I knew how irrational, impossible and stupidly impulsive this wish was only made things worse.
And so, one random day, I decided to face these demons and pack my bags for real. I took a train to the city in the Netherlands where I was born and wandered though the old centre, which had by now become bustling, busy and bewilderingly modern. I took the ferry to the other side of the river, to the adjacent, much smaller town where I spent the first twelve years of my childhood and which, I only then realized, I hadn't visited for probably just as long. Once I again sat foot on land, I had the strange sensation that I no longer needed to ask any questions. Even though I was, through the distance covered in time, a stranger now, I could walk through these streets as if guided by an inbuilt map. I progressed to the old dam, with its rusty industrial sculptures and watched the giant cargo-ships as they passed by, some of them taking their freight to the dock of the company where my father had worked. I walked down to my old quarter, passed by my former kindergarten, passed by the house where we'd lived, and had lunch at the snack-bar where I would buy ice cream as a little boy. There, at my table, over french fries and soft drinks, I realized there was no pang of nostalgia and there were no painful memories. Instead, sitting on the same red fake-leather bench where I had sat as a little boy, I felt a strange sense of safety. It was then that I realized that the past is not some obscure fairytale-like space in our imagination. We always carry it with us like a compass.
In a way, "Halcyon Bluff" is telling the same story. Again, we see the artist closing his eyes to roam the lands of his past. Again, it is presenting itself to him in all its glory. Trees are green and sumptuous. The air is hot and humid. Mist is rising in the morning. Expectation is in the air. This time, however, the artist cannot stay, nor does he want to. There's no mystery to why things have to end -- they just do. It is no more than a two-minute tale, but Goodman is telling it with a consoling sobriety. It is equally a song about the wonders and the wants of the past, about how there is always a good reason for why things cannot stay the way they were. It is a view from a present in which each moment still contains a promise, days still extend into forever and almost everything is still possible as long as you're not merely living your life in the past. It is about where you come from and what made it beautiful. It is about going back without fear. It is about going forward with that compass in your hand.  -- Tobias Fischer

Tobias also publishes music under the feu follet moniker, exploring music of both floating quality and clearly defined composition somewhere between Ambient, Drone and Electronica.www.myspace.com/feufolletmusic
(read more at Workbench Recordings)
Album
Halcyon Bluff (WBR 10)
Halcyon Bluff (WBR 10)
by
E. Ryan Goodman
is licensed under a
Attribution-NonCommercial-ShareAlike 3.0 International License
.
Workbench Recordings