Album Description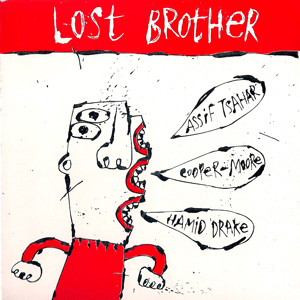 For a saxophone trio to get itself noticed these days, it needs a gimmick, a hook, something special to set its sound apart. The trio on Lost Brother has three. Saxophonist Assif Tsahar improves with every outing and wisely varies his attack by playing as much bass clarinet on this disc as tenor. Drummer par excellence Hamid Drake is as fluent as ever on the drum kit, Indian tabla and African frame drum. And Cooper-Moore, best known for the piano, confines himself to his usual array of unusual instruments—twanger, diddley-bow and ashimba (an African marimba)—to startling effect.
Cooper-Moore dominates "Breaking the Water with the amplified rumblings of his twanger, which sounds like an otherworldly combination of a fretless bass and a Theremin, or like a Harley engine, as Tsahar blows into and around the vibrations. When Cooper-Moore switches to the ashimba, Tsahar changes to bass clarinet and Drake's accompaniment on tabla or frame drum contributes to the heavy Saharan vibe and warm, natural, woody sound. On diddley-bow, Cooper-Moore's tone is deep to the point of distraction, but it's a bracing instrument, particularly on "Departure, where Drake locks into funky rock groove. On "Seeking the Punto Fijo, Drake's rhythm suggests his work with Ken Vandermark's Sun Ra/Funkadelic tribute band Spaceways Inc.
A few years ago, Drake cut a duet session with his usual compadre, bassist William Parker, calledPiercing the Veil, Vol. 1 (AUM Fidelity). The rhythmically enchanting music that Cooper-Moore makes here with Drake is close to that effort. And give Tsahar credit. He's like the golfer who isn't interested in playing with inferior opponents or even players of equal skill. He's only up for playing with his betters, in order to better himself. On Lost Brother, these three musicians are in top form.
By JEFF STOCKTON for allaboutjazz.com
Lost brother
by
Digital Primitives
is licensed under a
Attribution-NonCommercial-NoDerivatives (aka Music Sharing) 3.0 International License
.
Hopscotch records