You came this way:
Home
>
Devil in a Woodpile
Devil in a Woodpile

(1 Albums, 0 Tracks)
Artist
MEMBERS:
Rick "Cookin'" Sherry
Tom Ray
Joel Paterson
Most white folk these days be playing "the blues music" (you know, the hackneyed, soulless, tourist-blues with the wailing guitar solos and the watered-down Cream approach that appeals to all them rusting old hippies with their neatly trimmed pony tails and faded Canned Heat @ Monterey Pop T's.) Devil in a Woodpile, they play blues. They also play country. Ragtime. Hot Jazz. Hillbilly. It's all the same to them. It's all taken from the same well called American Music that existed long before wise guy marketing goons decided to categorize the whole mess.
Rick "Cookin'" Sherry is the living, breathing, vaudevillian who fronts the trio. Check out his uncanny ability to channel the blues roots of a 30's juke joint wailer through his 21st century foghorn pipes, creating an outright eerie persona; the ghost of Skip James or Robert Johnson come to life. He scrapes a washboard, pounds a marching drum with a foot pedal, and plays harmonica only like a top-notch bad ass would--all the while keepin' time with a crash symbol. But don't let his nickname lead you into thinking he's some kind of culinary expert; he's only ever cooked a few eggs.
Bassist Tom Ray learned how to play stand up from Willie Dixon. He's played with the Bottle Rockets, Waco Brothers, the Pine Valley Cosmonauts and currently is the bass player for Neko Case. He's also got a regular gig with the Blue Man Group. His hobbies are fishing (don't ask him about it, he'll tell you more than you ever wanted to know), motor sports, and maintaining his legendary utility belt--he's like some sort of bass-playin' super hero.
Guitarist Joel Paterson could quite possibly be the best guitar player in Chi-town. He's played with Kelly Hogan's jazz posse, The Wooden Leg, released his own pedal steel record (which we highly recommend) and can be found on stages all over town with anyone with the sense to let him play. We don't think Joel has any hobbies.
Since the early 1930's, Devil has been holding court at the Hideout every Tuesday night. It's free, it's acoustic and unamplified--just like your grandaddies had to hear it--and it is a fine time. Help pass the tip jar around and be prepared to be thoroughly entertained. If you don't find yourself whaling out heckles, daring them to play everything from Son House to The Zep and stomping your feet, well, quite frankly, there's probably something wrong with you. Seek help.
They've also been known to set up as the backing force in the kiddie punk supergroup the Wee Hairy Beasties with Jon Langford, Sally Timms and Kelly Hogan.
(From Bloodshot Records, 5/27/08)

» READ MORE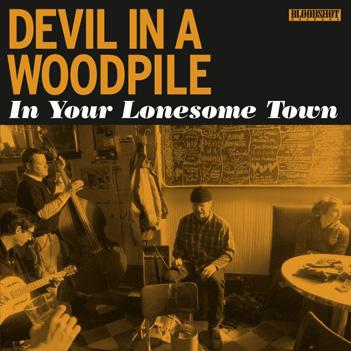 Bloodshot Store