Album Description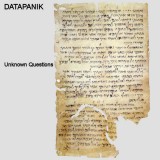 Released:
February 14th, 2005
Datapanik is a music project of 3 people living in a shared student house in Nijmegen, The Netherlands.
All songs are recorded with the use of inexpensive homerecording equipment. Most of the songs are live recordings and are written 'on-the-fly' without any rehearsals or preparations.
The essence of Datapanik was having fun in making music in general. Enjoy listening to Unknown Questions.
 
Equipment:
3 Tapedecks
Pentium I computer
Gravis Ultrasound soundcard
SoundBlaster! Pro compatible soundcard
5 dollar microphones

Software:
Fast Tracker (DOS)
GUS sampler (Windows 95)
Frank's soundeditor GUUS (DOS)

Instruments:
Acoustic guitar
Electric guitar
Yamaha PSR-320 Synthesizer
Yamaha guitar-shaped synthesizer
Harmonica
Djembe

Thanks go out to WM Recordings.
More Datapanik at pinksterbunny.com
Unknown questions
by
Datapanik
is licensed under a
Attribution-NonCommercial-ShareAlike 3.0 International License
.