Album Description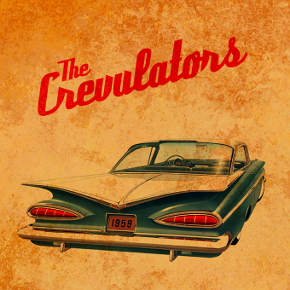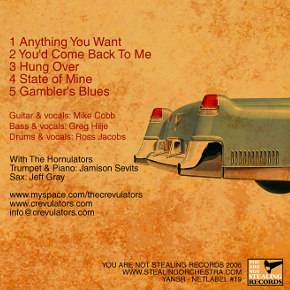 Released:
November 3rd, 2010
Caught in the trenches of a musical crux, The Crevulators step to the top of the muddy hole, guns blazing with their self-entitled debut.  The Crevulators can be labeled as several types of music, but the thump of Anything You Want, portrays their rockabilly stylings.  As a song about continuing the coolness process, only with guidelines, this band proves how they've fought to the top of the heap.  The bass sounds of Greg Hillje drive this retro thumper, while drummer Ross Jacobs gloriously hammers away at his stripped down kit.

Singer/guitarist, Mike Cobb declares, "I get drunk, I get stoned I'll do anything I can just to move myself along," in You'd Come Back, as an anti-salute to an empty relationship.  This Supersucker-ish heartbreaker is a slamming homage to good ol' guitar rock.

Hung Over, my favorite track, puts me in a psuedo-Violent Femme state of mind. Swearing off never drinking again is commonplace in the rockabilly lifestyle, but The Crevulators help put one of the reasons why we fall off the wagon into perspective.

State Of Mine is a hillbilly stomper complete with a fucking mouth harp!  I don't think any rockabilly song has ever been pulled of with one before.  State Of Mine guides us through the theory of self-medicating.  Creativity has never had it so good.   "And when I'm flying high, don't you know I'm feeling fine and it's mine all mine", Cobb explains.

Gamblers Anonymous would have a field day making Gambler's Blues their theme song.  This hard-hitting, wallet-busting ode to gambling hits home in many ways.  The disheveled anarchy of Gambler's Blues along makes this CD worth buying!  From punk to rockabilly, when Cobb describes losing money at a fancy casino and then realizing he should be at a lower stakes joint, we all get the humor.

This is one hell of a 5-song demo and is one to own.
The Crevulators
by
Crevulators, the
is licensed under a
Attribution-NonCommercial-NoDerivatives (aka Music Sharing) 3.0 International License
.