Album Description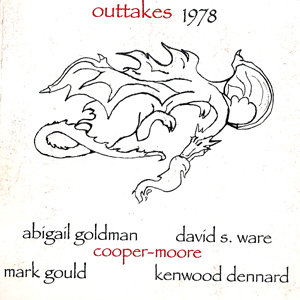 A welcome reissue, Outtakes 1978 finds iconic multi-instrumentalist Cooper-Moore leading a varied set of pieces in the studio. Each track is introduced with its respective title and take number by Gretchen, listed as the recordist for the session; it even sounds like an archival album. Cooper-Moore's infatuation with tribal percussion and gospel-tinged work outs certainly help lend the set an air of timeless nostalgia.
With lineups that vary from duo to full quartet, the album encompasses all of Cooper-Moore's early interests and makes for a varied and revealing listening experience. One of the more revelatory surprises is the appearance of a young David S. Ware. It is intriguing to hear how fully-formed his tone and phrasing was almost three decades ago. Despite a few Ayler-esque glisses, he hasn't changed much. Trumpeter Mark Gould has since vanished from the scene, a vibrant voice lost to academia. Future fusion drummer Kenwood Dennard, heard here to ingeniously creative effect, has since gone on to play with the heavyweights of that genre.
The program varies a lot and as such provides a wonderful introduction to Cooper-Moore's sound world. Marimba-based African percussion duets are featured on takes 1 and 3 of "Emancipation." Ware and Moore revel in the spirit on take 8 of "Prayer," with testifying gospel intensity. But the real treats are the full group tracks. With three different takes of "Ensemble" documenting the quartet's varied interpretations, one can hear how the players hone in and focus the music from rough-hewn blasting on the first take to a more reserved and patient ninth variation. Each version is an interesting study in Dennard's roiling drums, Gould's whip-smart, precision trumpet attack, and Ware's gargantuan tenor, with the leader's otherworldly diddly-bow rumbling far below most bass instruments. Reverberating like a bass string detuned to the point of barely resonating, it is a truly unique and bizarre-sounding instrumental tonal color.
"Duo, take 11" features the diddley-bow sparring with Gould's open and muted trumpet musings. Cooper-Moore lays a vamping bed of undulating percussive tones that sound almost electronic in their unearthliness. The recording session is filled out with two free tracks, takes 5 and 6 of "Trio," that give an early glimpse into Cooper-Moore's percussive pianism and Ware's embryonic tenor. Ware drifts a bit too far into his Ayler reverence on the gospelized "Prayer, take 8," but he sounds more inspired than imitative. The only misstep comes on the final cut, a haunting vocal ballad by Abigail Goldman that features Cooper-Moore's diddly-bow resounding out a rumbling undercurrent for the repeated stanzas of prayer.
Outtakes 1978 is quite a discovery, something any fan of late-1970s loft era jazz should be sure to hear.
By TROY COLLINS allaboutjazz.com 
Outtakes 1978
by
Cooper-Moore
is licensed under a
Attribution-NonCommercial-NoDerivatives (aka Music Sharing) 3.0 International License
.
hopscotch records