You came this way:
Home
>
Cooper-Moore
>
Deep In The Neighborhood Of History And Influence
Deep In The Neighborhood Of History And Influence by Cooper-Moore
Album Description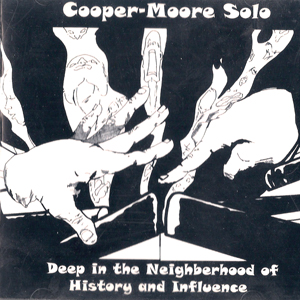 Cooper-Moore is one of those cats that's been a prime mover in creative improvised music for years, but has next to nothing in terms of a discography to show for it. He's living proof that the recorded legacy of the music, while seemingly vast, is only the tip of the iceberg in terms of what has transpired and lives on only in the memories of those who have witnessed it first hand through concerts and performance. To my knowledge this disc is Cooper-Moore's first as a leader. Fortunately his work as a 'sideman' (a word with dubious applicability in this music) is fairly well documented on recordings by William Parker, Susie Ibarra and Bill Cole.
Cooper-Moore's music is about making do with what's around. Whether working from a grand piano or with a piece of PVC tubing the man can and will create meaningful sounds out of anything. This disc, recorded in front a fortunate crowd at a Guelph Jazz Festival after set takes the form of piano recital simply because one was available. But from the start and at Cooper-Moore's own idiosyncratic insistence it shears away all the pomp and pretense that cloaks most solo piano recitals and finds the man simply playing for the people.
After a brief foreword by fellow musician Vijay Iyer, Cooper-Moore gives heartfelt and enthusiastic thanks to all that have preceded and inspired him (the residents of the neighborhood of the title)- a long list that he carefully and conscientiously recounts. "All of a Sudden" opens just like that, Cooper-Moore's hands and fingers always aflutter typing out a variegated tapestry of fragmentary chords and clusters that runs the length of his keyboard. "A Float," like its name implies, is less volcanic as dusky chords unfurl and tell a tale steeped in solemn emotion. The piece bears witness to the fact that despite his hair-trigger improvisational tendencies Cooper-Moore remains at his core one of the most lyrical musical souls. "Blues for Jacki Byard" is like a miniature piano lesson for the audience as a seminal influence is revealed and revered through song. Later he touches at length on Susie Ibarra's poignant piece "Radiance," rendering a reading different from, but no less calm inducing than the one on her trio album of the same name (also on Hopscotch).
One of the most refreshing aspects of this disc is unassuming nature of it, just a man and a piano, communicating stories from a reservoir of experience. Never is there a sense that Cooper-Moore is jiving or trying to impress. He couldn't even if he wanted to. He wears his honesty and his forthrightness like his signature pair of blue coveralls announcing that his message is the genuine article to all those willing to listen.
By DEREK TAYLOR for allaboutjazz.com
Album
Deep In The Neighborhood Of History And Influence
Deep In The Neighborhood Of History And Influence
by
Cooper-Moore
is licensed under a
Attribution-NonCommercial-NoDerivatives (aka Music Sharing) 3.0 International License
.
Hopscotch Records