Album Description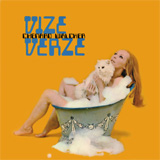 Released:
December 19th, 2004
"An album made out of dutch samples only (i've sampled all 52 Weeks Project tracks, plus thousands of other sources, including stuff curated for me by Jan Turkenburg). Well, as i don't speak dutch, this funny project is a kind of cadavre exquis. As a result, in a song named Zuster (religious sister) you hear the dutch speaking Soeur Sourire say that she has met God one night and that he rescued her with his love, after which you hear the radio-gymnastics teacher say: And pull ... two, four ... to the floor!"

Chenard Walcker was born and raised upon no secret formula but this one: Surrealist altruism. So, he became a cut and paste addict. He made his first steps in the visual field, but soon let aside photocollages to concentrate only on music.

Chenardwalcker.com has been online since march 2003 and presents a large selection of his work as a samplecore artist, whatever this might mean. All the music is available in both the Free Sample Zone and the Internet Archive. WM Recordings is proud to offer you this new release by Mr. Walcker.

Yann Chenard lives in la Goutte d'Or, Paris, France.
Vize verze
by
Chenard Walcker
is licensed under a
Attribution-NonCommercial-ShareAlike 3.0 International License
.