You came this way:
Home
> Curator:
ccCommunity
>
Cambriana
Cambriana

(1 Albums, 10 Tracks)
Artist
MEMBERS:
WASSILY BRASIL (Keyboards
bass
guitars
backing vocals)
LUIS CALIL (Vocals
guitars
keyboards
drum programming
percussion)
PEDRO FALCÃO (Bass
backing vocals
saxophone)
HELOÍSA HELENA (Drums
backing vocals)
RAFAEL MORIHISA (Guitars)
ISRAEL SANTIAGO (Guitars
keyboards
backing vocals)
Indie psych pop from Goiânia, GO, Brazil.
Luis Calil started writing Cambriana's debut album, House of Tolerance, late in 2010, locked in his bedroom and working obsessively. By March 2011, he invited a friend, Wanderson Meireles, to help him with the project and contribute song ideas. They lived in different cities - Luis in Goiânia, Wanderson in Brasilia - so much of the work was done via internet (which was for the best, really).
In September, Rafael Morihisa and Israel Santiago, both guitarrists who had played with Luis before, joined the band for the recording of the album. Although the record was mostly done on the band's home studio (with the exception of vocals, acoustic guitars, banjo and violins), considerable care was taken with the audio quality.
Work was done by January 2012, and the band released the first single, "The Sad Facts" (described by a fan as "Footloose for depressives"), which got a big and extremely positive reception. House of Tolerance, featuring 10 stylistically diverse tracks, was made available as a free download on 01/27, and was covered by multiple music blogs and sites around the country.
The band completed their live formation by inviting Wassily Brasil (keyboards), Pedro Falcão (bass) and Heloísa Helena (drums) to the project, and are planning on touring throughout the year. (via cambrianamusic.com, Dec 2012)
» READ MORE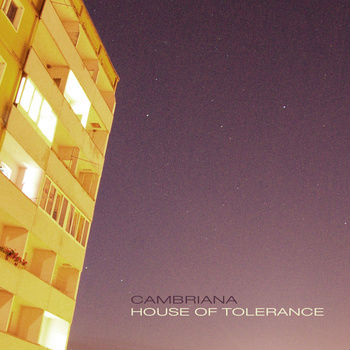 bandcamp