Album Description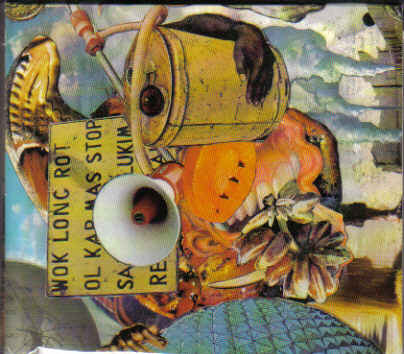 Molecular glam is how gary bradbury (ex severed heads) describes his first solo album in 14 years RUFFINI CORPUSCLE. this eclectic selection of works, amassed over the past three years, incorporates a wide range of creative strategies and techniques including: customised pianola rolls (Never the Less), randomised digital cut-ups (The Boulevard of Broken Arms), dismembered vinyl (Sinistrogyric Mobius Disc) and analogue synthesis (Big Man On Campus, Speaker, Filmore Honey). Intensely melodic, full of rhythmic and textural detail, this collection presents the culmination of his recent extensive sonic explorations. (remixed album Corpuscle Plus also available as CDR or download)
REVIEWS:
"Since 1979 Sydney based Gary Bradbury has been producing strange and abstract electronic based music. As part of the duo Severed Heads with Tom Ellard, he produced works that have appeared on labels as diverse as Ink Records, Network and Virgin Australia. In recent times he has concentrated on producing theatre soundtracks (2001 King Lear) and his solo material. Ruffini Corpuscle, adorned with his unique collage style artwork is an example of the strange, diverse and intriguing roads he has travelled over the last few years. Whilst initially quite challenging, the compositional care taken to structure the works remains a unifying theme. Utilising gentle melancholic drones (distant Elk), glitched up digital scraps of static (Filmore Honey), strange childlike melodies and repetitive vocal samples (Big Man on Campus), Ruffini Corpuscle is quite a personal journey that regularly shifts his focus and repeatedly tests out new sonic theories. Bradbury has the rare double, not only is he meticulous in his execution, but he's been able to produce not one but fourteen new atmospheric worlds, where the laws of nature no longer exist, but chaos is kept at bay by Bradbury's odd and innovative logic". - Bob Baker Fish
"TWICE SHRILL AND COLOURFUL IN A STYLISH COLLAGE-CARDBOARD COVER FROM THE DUAL PLOVER LABEL, WHICH HAS, OVER THE YEARS, SECURED ITSELF A SOLID PLACE FAR AWAY FROM THE AUSTRALIAN MAINSTREAM. WITH REMARKABLE VIGOROUSNESS THE HOUSE OF DUAL PLOVER HAS PUBLISHED 100% UNCOMPROMISING MUSIC AND ATTATCH GREAT IMPORTANCE TO EXTREME KINDS OF REPRESENTATION, I COULD SEE FOR MYSELF ALSO HOW IT IS SHOWN THROUGH THE QUICK-TIME VIDEOS FROM THE VERY IMPRESSIVE SWEDEN CD. THE TIGER FUR-TROUSERS MUST GIVE WAY IN FAVOUR OF ENTIRE NAKEDNESS TO REACH THE DESIRED EFFECT. IT QUICKLY BECOMES CLEAR THAT THE TOPIC IS NOW MORE A PERFORMANCE ART IN THE SENSE OF A "CRAZY FREAK-SHOW" THAN THE SIMPLE CREATION OF CONSUMABLE MUSIC. SWEDEN ARE NEAR TO THE CIRCUS PERFOMANCE SIDE AND PLAY FULL OF PASSION IN POP SONG COVERS WHICH ARE VERY BRUTALLY DESTROYED THROUGH SYNTHESIZER "NOISE" AND SCREAMING THAT ONE WOULD LIKE TO REDEFINE THE WORD: DE-CONSTRUCTIVISM. THE QUESTION IS:" WHERE IS THE SENSE OF IT ALL?" BUT YOU HAVE TO BE CLEAR ABOUT THIS, THAT THE PEOPLE THE PEOPLE AROUND LUCAS WILL BREAK OUT IN RINGING LAUGHTER AND SCREAM AT THE THE TOP OF THEIR VOICE " NONSENSE !" IF YOU WOULD ASK THEM. BUT IT IS NOT SO EASY. I EVEN MAINTAIN THAT ONE MAKES A BIG MISTAKE IF ONE DISMISSES ALL THIS AS "CRAZY" BULLSHIT. ENTER, STAGE RIGHT GARY BRADBURY WITH HIS CD:" RUFFINI CORPUSCLE", ABOUT WHICH, I'M REALLY ENTHUSIASTIC. THIS MAN WAS WITH " THE SEVERED HEADS" AND ONE CAN CALL HIM, WITHOUT EXAGERRATION AN ELECTRONIC PIONEER FROM THE GOLDEN TIMES OF BRIAN ENO. THE RECORDING SOUNDS AS IF IT CALLS US DIRECTLY FROM THE 80'S. IT WAS PROBABLY CONSTRUCTED OUT OF SYNTHESIZER AND SAMPLER WHERE EACH HAS THE SIZE OF A HALF SEMI-DETATCHED HOUSE AND A COMPOSED CERTAINTY IS SHINING FROM IT WHICH MAKES YOU SUDDENLY STOP AND MAKES YOU LISTEN. HE WORKED A LONG TIME ON THIS; EVERY NOISE HAS IT'S LEGITIMACY AND IT'S VALUE AND THE END RESULT COMBINES ATTRIBUTES WHICH CAN'T BE MORE CONTRASTING: DESTRUCTIVE, (REALLY) BRUTAL, BROKEN, RUDE AND WITH THE SAME BREATH, SENSITIVE, PLEASANT, (REALLY) IDEALISTIC AND CHARMING. OUTSTANDINGLY BALANCED, LAVISH MUSIC WITHOUT ACADEMIC BALLAST, BUT WITH HUMOUR".- HINDERLANDT
"Collages of electronics, child-like melodies and found sounds. A mix between the plunderphonics of People Like Us and heavy noisy electronics. As a member of Australia's Severed Heads, Garry Bradbury has been making electronic music since the late 70's. He must have been the member who gave the group it's creepy eerie experimental side. Original, beautiful and eerie stuff. I love every track on here. Highly Recommended. 1) Bells and churps. (((2))) crunching sounds, child-like piano melody and a kid sweetly saying, "love". 3) A repetitive flute melody and a piano being played all over the place w/o repeats on top. (((4))) Crunchy. Intriguing. Evolving keyboard melody, samples. (((5))) So eerie. Grinding sounds, deep beat, crackling vocal samples. "They're coming today. They've got a wheelbarrow in that van.". excellent. ((6)) Dramatic, beautiful, slow. Vocals and electronics. 7) Light and fun melody with all kinds of sounds. ((8)) Light carefree melody with crunching noise. ((9)) Song plus bells play in alternating channels. Avoid headphones. ((10)) Cute sounds bouncing around and crunching sounds get layered in. 11) Slow, chirping, beats, tribal. Evolves into beeps and crunches. ((12)) Soaring sounds invade dramatically and off key a bit. Turns into a buzzing organ. Nice. 13) **FCC's (lots of fucks)** noisey crunches with good almost dancey beats with breaks of vocal snippets. "I need welfare. My family deserves welfare" 14) Slow, atmospheric, synth-based, eerie, nice". - stirling
"Gary Bradbury can rightly be considered to be one of Australia's critical early forces in the development of electronic music in this country, having first emerged together with Tom Ellard as half of the much revered and internationally acclaimed outfit Severed Heads. At the time of Bradbury's peak involvement with Severed Heads', he contributed in the studio to sessions that became 1983's jumbled freeform noise laden tape collage 'Since The Accident' and the starker synth driven sounds of 1985's 'City Slab Horror.' Since these early outings, Bradbury's involvement with Severed Head's studio incarnation diminished as Ellard focused more on producing alone, although he still maintains a high level of involvement as part of the live outfit and creates video for Severed Heads tracks. In recent years, he's also squeezed in time to co-ordinate the annual Big Day Out festival's EAR Stage, which has featured Severed Heads live performances alongside those from Voiteck, Kazumichi Grime and believe it or not – Kissteria, as well as release an album as Size on Sydney based label Zonar Recordings with Jason Gee. And aside from constructing the music to accompany Sydney-based cabaret-noise artist Sweden, there's the sound design for theatre – most particularly his 2001 soundtrack for King Lear. All of this activity aside, 'Ruffini Corpuscle' represents the first solo release from Gary Bradbury since his now virtually impossible to get tape-only 1981 debut. Bradbury describes this album as 'molecular glam – an eclectic selection of works amassed over the last three years incorporating a wide range of creative strategies and techniques including: customised pianola rolls, randomised digital cut-ups, dismembered vinyl and analogue synthesis.' If that wasn't enough to make the less hardy falter, the echoes of some of Severed Heads' chaotic early 80s tape violence ringing in their ears, 'Ruffini Corpuscle' is released through Sydney's Dual Plover imprint, whose founder Swerve prides himself on releasing some of the most jarring music possible (witness Suicidal Rap Orgy). Despite initial anxieties though, Ruffini Corpuscle is a stunning release that contains plenty of graceful idyllic moments of beauty alongside the more industrial crunch that some might be expecting. 'Paws' opens slowly with icy chiming tones and muffled bass drums, its almost Boards Of Canada-like glacial synth tones phasing in and out of range, before 'Big Man On Campus' cuts in at this point with jarring percussive slams and buzzing distorted bass, all curled around an unsettling looped sample of a little girl saying 'love' over and over again. There's also a definite dark filmic absurdist aesthetic going on here as well, 'Big Man On Campus' is buoyed up by an unsettling dark carnival-like joy, while 'Never The Less' is more of a contemplative segue that sounds like it could have originated in some of Bradbury's soundtrack work, its languid piano tones underpinned by wandering flute and shuffling percussion. 'Speaker' begins with clanking loops and camera snaps, slowly growing into an unearthly whirring of machinery and bass pulses around a cutup choir drone, before slow beats take the whole track up into a wistful rolling climax that's reminiscent in timbre to some of Autechre or Plaid's more heartfelt tonal moments. 'The Van' is an altogether more formidable proposition, its opening textures slowly being swallowed up by ever-increasing sheets of metallic distortion and digital signal processing in a manner similar to some of Pimmon's work, while 'Chubfuddeling' is a minimal clicking ambient dub track filled with electronic skitters and pulses, digitally manipulated water droplets and video game sine tone synth beeps. 'Boulevard of Broken Arms' ups the audio violence quotient several notches, its initially pretty ringing tones descending into digitally-processed noise hell, before popping out completely unharmed on the other side. 'Sinistrocyric Mobius Disc' constructs a stuttering groove out of dismembered vinyl samples that can't quite decide which way it wants to go and the fantastically titled 'Fabio Goose' plods along tentatively over glacial keyboard tones, the sampled sound of geese honking and slightly unsettling scraping sounds offsetting the initially charming vibe. 'The Nectar of Instruction' starts off with almost a samba swing in its step and builds slowly over radiant harp tones before crunching into heavy signal distortion, while 'Filmore Honey' rides an almost Gary Glitter-stomp beat, tinny movie samples layered over propulsive slap bass, plinking sampled percussion and jagged distorted synths. 'Ruffini Corpuscle' is an immersive and rewarding listen that slowly unfolds itself over repeated plays – it's also a testament to the production abilities and creative imagination of Bradbury that this album covers so much ground, yet also packs in so much intricate detail. Most curiously, you would have never otherwise guess that this collection is in many ways an anthology of selected recent works from the past few years – it is simply that cohesive and consistent. It also has to said that this is one of the most beautifully presented examples of local CD packaging in recent memory, with the sleevenotes provided on an overhead transparency and stunning collage style art on a sleeve that seals with a velcro clasp. 'Ruffini Corpuscle' is a challenging and occasionally abrasive listening experience, but those with a taste for highly textured sounds and detailed, imaginative production won't be disappointed. Essential listening for those into more menacing glitchy, digitally-processed sounds – there's also a bonus 'Corpuscle Plus' CD available for download, which doubtless is worth chasing too…" - evilchris
Ruffini Corpuscle
by
Bradbury
is licensed under a
Attribution-Noncommercial-Share Alike 3.0 United States License
.
dual plover